Gotta lotta bottle
8th January 1983
Page 10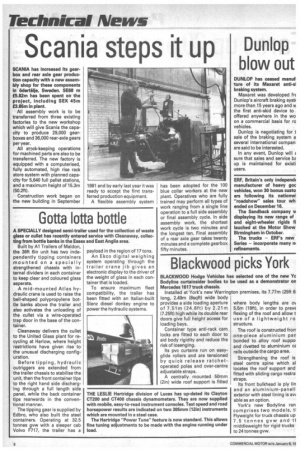 Page 10, 8th January 1983 —
Gotta lotta bottle
Close
A SPECIALLY designed semi-trailer used for the collection of waste glass or cullet has recently entered service with Cleanaway, collecting from bottle banks in the Essex and East Anglia area.
Built by Al Trailers of Maldon, the 36ft 6in unit has two independently tipping containers mounted on a specially strengthened chassis with internal dividers in each container to keep clear and coloured glass seperate.
A mid-mounted Atlas hydraulic crane is used to raise the bell-shaped polypropylene bottle banks above the trailer and also activates the unloading of the cullet via a wire-operated trap door in the base of the container.
Cleanaway delivers the cullet to the United Glass plant for recycling at Harlow, where height restrictions have given rise to the unusual discharging configuration.
Before tipping, hydraulic outriggers are extended from the trailer chassis to stabilise the unit, then the front container tips to the right hand side discharging through a full length side panel, while the back container tips rearwards in the conventional manner.
The tipping gear is supplied by Edbro, who also built the steel containers. Operating at 32.5 tonnes gvw with a sleeper cab Volvo F717, the trailer has a payload in the region of 17 tons.
An Ekco digital weighing system operating through the trailer crane jib gives an electronic display to the driver of the weight of glass in each container that is loaded.
To ensure maximum fleet compatibility, the trailer has been fitted with an Italian-built Slanz diesel donkey engine to power the hydraulic systems.