Vast Coaching Activity in Germany
8th February 1935
Page 101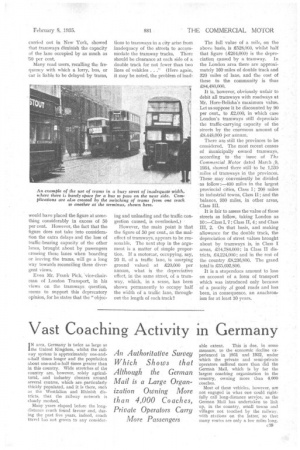 Page 102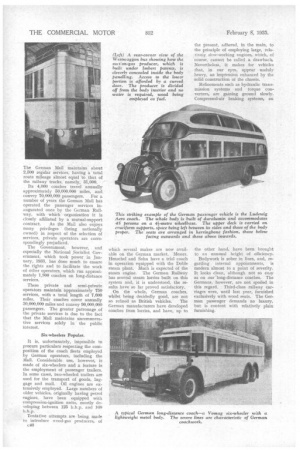 Page 101, 8th February 1935 —
Vast Coaching Activity in Germany
Close
I N area, Germany is twice as large as the United Kingdom, whilst the railway system is approtimately one-anda-half times longer and the population about one-and-a-half times greater than in this country. Wide stretches of the country are, however, solely agricultural, and industry clusters around several centres, whichare particularly thickly populated, and it is there, such as the Westfalian and Rhinish districts, that the railway network is closely meshed.
Many years elapsed before the longdistance coach found favour and, during the past five years, indeed, coach travel has not grown to any consider able extent. This is due, in some
measure, to the economic decline experienced in 1931 and 1932, under which the private • and semi-private operators suffered more than did the German Mail, which is by far the largest coaching organization in the country, owning more than 4,000 coaches.
Most of these vehicles, however, are not engaged in what one could rightfully call long-distance service, as the German Mail has undertaken to link up, in the country, small towns and villages not touched by the railway, with stations on the latter, so that many routes are only a few miles long. The German Mail maintains about 2,500 regular services, having a total route mileage almost equal to that of the railway tracks, namely, 31,000.
Its 4,000 coaches travel annually approximately 60,000,000 miles, and convey 70,000,000 passengers. For a number of years the German Mail has operated the passenger services inaugurated once by the German Railway, with which organization it is closely affiliated by a mutual-support contract, As the Mail also enjoys many privileges (being nationally owned) in respect of the selection of services, private operators are correspondingly prejudiced.
The Government, however, and especially the National ;Socialist Government, which took power in January, 1933, has done much to ensure the rights and to facilitate the work of other operators, which run approximately 1,800 coaches on long-distance services.
These private and semi-private operators maintain approximately 750 services, with a total length of 7,600 miles. Their coaches cover annually 30,000,000 miles and convey 90,000,000 passengers. The greater patronage of the private services is due to the fact that the Mail maintains unremunerative services solely in the public interest.
Six-wheelers Popular.
ft is, unfortunately, impossible I-o procure particulars respecting the composition of the coach fleets employed by German operators, including the Mail. Considerable use, however, is made of six-wheelers and a feature is the employment of passenger trailers. hi some cases, two-wheeled trailers are used for the transport of goods, luggage and mail. Oil engines are extensively employed. Large numbers of older vehicles, originally having petrol engines, have been equipped with compression-ignition units, mostly developing between 125 b.h.p. and 160 b. h ,p
Tentative attempts are being, rna.de to introduce wood-gas producers, of c40 which several makes are now available on the German market, Messrs. Henschel and Sohn have a trial coach in operation equipped with the Doble steam plant. Much is expected of the steam engine. The German Railway has several steam lorries built on this system and,. it is understood, the results have so far proved satisfactory.
On the whole, German coaches, whilst being decidedly good, are not so refined as British vehicles. The German manufacturers have developed coaches from lorries, and have, up to the present, adhered, in the main, to the principle of employing large, relatively slow-working engines, which, of course, cannot be called a drawback,. Nevertheless, it makes for vehicles that, in our eyes, appear unduly heavy, an impression enhanced by the solid construction of the chassis.
Refinements such as hydraulic transmission systems and torque converters, are gaining ground slowly. Compressed-air braking systems, on the other hand, have been brought to an unusual height of efficiency.
Bodywork is sober in lines, and, regarding internal appointments, is modern almost to a point of severity. It looks clean, although not so cosy as on our "long-distance coaches. The Germans, however, are not spoiled in this regard. Third-class railway carriages were, until last year, furnished exclusively with wood seats. The German passenger demands no luxury, but is content with relatively plain furnishing.