Fall from lorry costs haulier nearly £27,000
8th December 2011
Page 15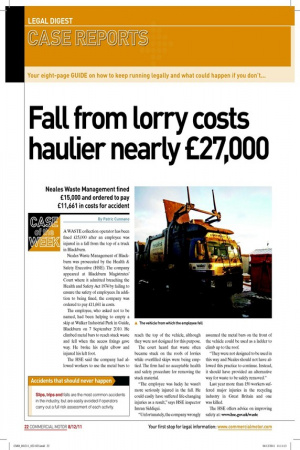 Page 15, 8th December 2011 —
Fall from lorry costs haulier nearly £27,000
Close
Keywords :
Safety
,
Risk
,
Department For Work And Pensions
,
Health And Safety Executive
,
Waste Management, Inc
,
Occupational Safety And Health
,
Health And Safety At Work Etc. Act
,
Law / Crime
,
Labor
,
Environment
Neales Waste Management fined £15,000 and ordered to pay £11,661 in costs for accident
By Patric Cunnane
A WASTE collection operator has been ined £15,000 after an employee was injured in a fall from the top of a truck in Blackburn.
Neales Waste Management of Blackburn was prosecuted by the Health & Safety Executive (HSE). The company appeared at Blackburn Magistrates' Court where it admitted breaching the Health and Safety Act 1974 by failing to ensure the safety of employees. In addition to being ined, the company was ordered to pay £11,661 in costs.
The employee, who asked not to be named, had been helping to empty a skip at Walker Industrial Park in Guide, Blackburn on 7 September 2010. He climbed metal bars to reach stuck waste and fell when the access ixings gave way. He broke his right elbow and injured his left foot.
The HSE said the company had allowed workers to use the metal bars to reach the top of the vehicle, although they were not designed for this purpose.
The court heard that waste often became stuck on the roofs of lorries while overilled skips were being emptied. The irm had no acceptable health and safety procedure for removing the stuck material.
"The employee was lucky he wasn't more seriously injured in the fall. He could easily have suffered life-changing injuries as a result," says HSE inspector Imran Siddiqui.
"Unfortunately, the company wrongly assumed the metal bars on the front of the vehicle could be used as a ladder to climb up to the roof.
"They were not designed to be used in this way and Neales should not have allowed this practice to continue. Instead, it should have provided an alternative way for waste to be safely removed." Last year more than 150 workers suffered major injuries in the recycling industry in Great Britain and one was killed.
The HSE offers advice on improving safety at: www.hse.gov.uk/waste