Innovations in Components and Accessories
8th December 1950
Page 50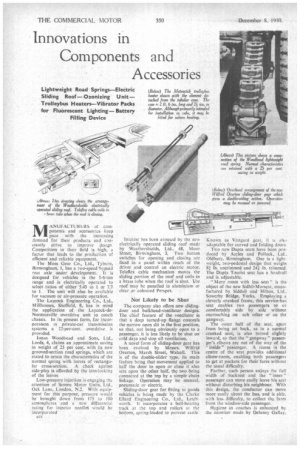 Page 53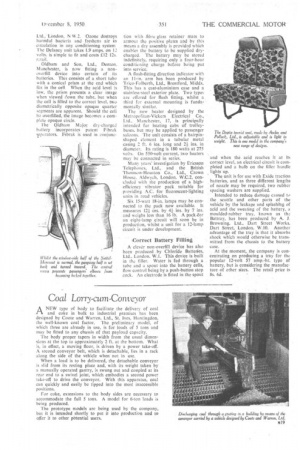 Page 50, 8th December 1950 —
Innovations in Components and Accessories
Close
Lightweight Road Springs—Electric Sliding Roof—Ozonizing U nit — T rolleybus Heaters—Vibrator Packs for Fluorescent Lighting—Battery Filling Device
MAN UFACTU RI-_ RS of cornponents and accessories keep pace with the increasing demand for their products and constantly strive to improve design Competition in their field is hlgh, a factor that leads to the production of efficient and reliable equipment.
The Moss Gear Co., Ltd., Tyburn, Birmingham, 1, has a two-speed 'hypoid rear axle under development. It is designed for vehicles in the 5.6-ton range and is electrically operated to select ratios of either 5.43 to 1. or 7.7 to 1. The unit will also be available for vacuum or air-pressure operation.
The Laycock Engineering Co., Ltd., Millhouses, Sheffield, 8, has in mind the application of the Layeock-deNormanville overdrive unit to coach chassis. In its present form, for incorporation in private-car transmission systems a 22-per-cent. overdrive is provided.
Jonas Woodhead and Sons, Ltd., Leeds, 4, claims an approximate saving in weight of 25 per cent, with its new grooved-section road springs, which are stated to retain the characteristics of the normal spring with leaves of rectangular cross-section. A check against side-play is afforded by the interlocking of the leaves. Low-pressure . Low-pressure injection is engaging tn..: attention of Simms Motor Units, Ltd., Oak Lane, London, N.2. With equipment for this purpose, pressure would be brought down from 175 to 100 atmospheres and a new differential rating for injector needles would be incorporated RI I . Interest has been aroused by the new electrically operated sliding roof made by Wcathershields, Ltd., 48, Moor Street, Birmingham, 3, Two button switches for opening and closing are fixed in a panel within reach of the driver andcontrol an electric motor. Teleflex cable mechanism moves the sliding portion of the roof and coils in a brass tube when the roof is shut. Ihe roof may be panelled in aluminium or clear or coloured Perspex.
Not Likely to be Shut
The companyalso offers new slidingdoor and bulkhead-ventilator designs. The chief feature of the ventilator is that a deep turned-up flange conceals the narrow open slit in the first position, so that, not being obviously open to a passenger, it is less likely to be shut on cold days and stop all ventilation.
A novel form of sliding-door gear has been evolved by Messrs. Wilfrid Overton, Marsh Street, WaLsall. This is of the double-slider type, its main feature being that movement applied to half the door to open or close it also acts upon the other half, the two being connected at the top by a simple chain linkage. Operation may be manual, pneumatic or electric.
Sliding-door gear for fitting to goods vehicles is being made by the Clarke Ellard Engineering Co., Ltd., Letchworth. It incorporates a ball-bearing track at thetop and rollerS at the bottom, spring-loaded to prevent rattle. Known as Vane,ard gear, it is also adaptable for curved and folding doors.
Two new Dapta seats have been produced by Accles and Pollock, Ltd.. Oldbury, Birmingham. One is a lightweight, two-pedestal design that weighs 81 lb, untrimmed and 241 lb. trimmed The Dapta Tourist seat has a headroll and is adjustable.
" More room with less seat " is the object of the new Sidhil-Morseat, manufactured by Siddall and Hilton, Ltd.. Sowerby Bridge, Yorks. Employing a cleverly cranked frame, this service-bus seat enables two passengers to sit comfortably side by side without encroaching on ach other or on the gangway.
The outer half of the seat, apart from being set back, as in a normal cranked seat, is also turned slightly inward, so that the "gangway" passenger's elbows are out of the way of the inside" passenger. A recess in the centre of the seat provides additional elbow-room, enabling both passengers to get at pockets for their fares without the usual difficulty.
Further, each person enjoys the full width of backrest and the "inner" passenger can more easily leave his seat without disturbing his neighbour. With this design, the conductor can move more easily about the bus, and is able, with less difficulty, to collect the fares from the window-side passenger.
Hygiene in coaches is enhanced by the ozonizer made by Delaney °allay, La, Landon, N W.2. Ozone destroys harmful bacteria and freshens air in circulation in any conditioning system The Delaney unit takes 1.9 amps. on 12 volts, is simple to fit and costs £12 12s.
Oldham and Son, Ltd., Denton. Manchester, is now fitting a nonoverfill device into certain of . its batteries. This consists of a short tube with a conical prism at the end which fits in the cell When the acid level is low, the prism presents a clear image when viewed down the tube, but when the cell is filled to the correct level, two diametrically opposite opaque quarter segments are apparent. Should the cell be overfilled, the image becomes a complete opaque circle.
The Oldham Major dry-charged battery incorporates patent Fibrak separators. Fibrak is used in conjunc lion with fibre glass retainer mats to armour the positive plates and by this means a dry assembly is provided which enables the battery to be supplied drycharged. The battery may be stored indefinitely, requiring only a four-hour conditioning charge before being put into service.
A flush-fitting direction indicator with an 11-in, arm has been produced by Trico-Folberth, Ltd., Brentford, Middx. This has a cast-aluminium case and a stainless-steel exterior plate. Two types are offered for flush fitting, whilst a third for external mounting is fundamentally similar.
The new heater designed by the Metropolitan-Vickers Electrical Co" Ltd.. Manchester, 17, is principally intended for heating cabs of trolley. buses, but may be applied to passenger saloons. The unit consists of a hairpinshaped element in a tubular metal casing 2 ft. 6 ins, long and 2i ins, in diameter. Its rating is 180 watts at 275 volts. On 550-volt current, two heaters may be connected in series.
Many years' investigation by Ericsson Telephones, Ltd., and the British Thomson-Houston Co., Ltd., Crown House"taldwych, London. W.C.2, concluded with the production of a highefficiency vibrator pack suitable for providing AC. for fluorescent-lighting units in road vehicles.
Six 15-watt 18-in, lamps may be connected to the pack now available. It measures 123; ins. by 4.1 ins. by 7 ins. and weighs less than 16 lb. A pack-for an eight-lamp circuit will soon be in production, whilst a unit for a 12-lamp circuit is under development.
Correct Battery Filling
A clevMnon-overfill device has also been produced by Chloride Batteries, Ltd.. London, W.I. This device is built in the filler. Water is fed through a tube and a spout into the battery cells, flow control being by a push-button stop cock. An electrode is fitted in the spout and when the acid reaches it at its correct level, an electrical circuit is completed and a bulb on the filler handle lights up.
The unit is for use with Exide traction batteries, and as three different lengths of nozzle may be required, two rubber spacing washers are supplied.
intended to reduce damage c a used to the scuttle and other parts of the vehicle by the leakage and splashtng of acid and the sweating of the battery, a moulded-rubber tray, known as the Battray, has been produced by A. J. Browning. Ltd., Dart Street Works. Dart Street, London, W.10. Another advantage of the tray is that it absorbs shock which would otherwise be transmitted from the chassis to the battery case.
At the moment, the company is concentrating on producing a tray for the popular 12-volt 57 amp.-hr. type of battery, but is considering the manufac. tore of other sizes. The retail price ia 8s. 6d.