Northern Ireland Transport Board's Results_
8th December 1944
Page 28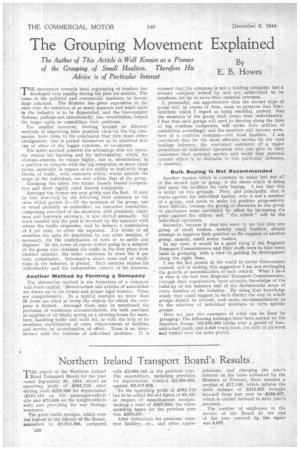 Page 28, 8th December 1944 —
Northern Ireland Transport Board's Results_
Close
THE report of the Northern Ireland Road Transport Board for the year ended September .30, 1944, shows an operating profit of £382,713, after setting aside -£225,000 for depreciation (£151,155 on the passenger-vehicle side and £73,845 on the freight-vehicle side) and providing for war damage insurance.
The gross traffic receipts, which were the highest in the history of the Board, amounted to £3,012,366, compared
A20 with 42,886,343 in the previous year. The expenditure, including provision for depreciation, totalled £2,629,653, against £2,517,958.
To the operating profit of £382,713 has to be added the net figure of £5,121 in respect of miscellaneous receipts, making a total of £387,834; the corresponding figure for the previous year was I:1373,537.
After deductions for pensions, taxation liability,. etc,, and other appro. priations, and charging the year's interest on the loans advanced by the Ministry of Finance, there remains a surplus of £17,140, which reduces the debit balance of £315,837 brought forward from last year to £298,697, which is carried forward to next year's accounts.
The number of employees in the service of the Board at the end of the year coyered by the report was 5,097,