How the Southern Railway Has Ltained Road Services in War-time
8th December 1944
Page 26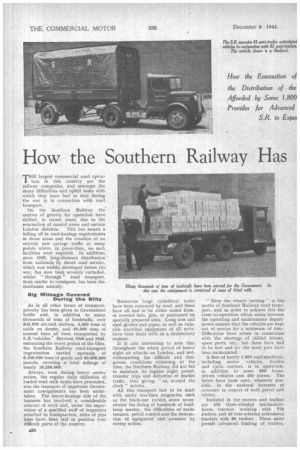 Page 27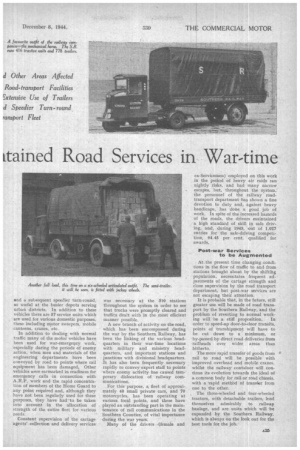 Page 26, 8th December 1944 —
How the Southern Railway Has Ltained Road Services in War-time
Close
THE largest commercial road opera' tors in this country are the railway companies, and amongst the many difficulties and uphill tasks with which they have had to deal during the war is in connection with road transport.
On the Southern Railway the centres of gravity for operation have shifted, in recent years, due to the evacuation of coastal areas and certain London districts. This has meant a falling off in road-haulage requirements in those areas and the creation of an entirely new cartage traffic at many points where, in peace-time, no such facilities were required. In addition, since 1939, long-distance distribution from railheads by direct road service, which was widely developed before the war, has now been severely curtailed, whilst " through " road transport, from sender to consignee, has been discontinued entirely, Big Mileage Covered During the Blitz As in all other forms of transport, priority has been given to Government traffic and, in addition to many thousands of tons of foodstuffs, over 845,000 air-raid shelters, 4,000 tons of cable on drums, and 50,000 tons of cement have all been transported by S.R.•vehicles." Between 1940 and 1943; embracing the worst period of the blitz, the Southern Railway road-transport organization carried upwards of 6,500,000 tons of goods and 50,000.000 parcels, covering a total mileage of nearly 18,250,000.
Always, even during heavy enemy action, the regular daily deliveries of loaded road milk tanks have proceeded, also the transport of important Government consignments has been undertaken. The heavy-haulage side of the business has involved a considerable amount of work and, under the supervision of a qualified staff of inspectors attached to headquarters, miles of pipe lines have been laid in position over difficult parts of the country, Numerous large cylindrical tanks have been conveyed by road, and these have all had to be either raised from, or lowered into, pits, or positioned on specially prepared sites. Long iron and steel girders and pipes; as well as valuable electrical equipment of all sorts, have been dealt with in a satisfactory manner.
It is also interesting to note that throughout the whole period of heavy night air attacks on London, and notwithstanding the difficult and dangerous conditions obtaining at the time, the Southern Railway did not fail to maintain its regular night parceltransfer trips and deliveries of market traffic, thus giving " an around the clock " service, All this transport had to be dealt with under war-time exigencies, such as the black-out (which alone necessitated the fixing of hundreds of headlamp masks), the difficulties of maintenance, petrol control and the destruction of equipment and premises by enemy action. " Keep the wheels turning" is the motto of Southern Railway road transport, and in order to achieve this the close co-operation which exists between the operating and maintenance departments ensures that the vehicles are kept out of service for a minimum of time, Difficulties have arisen in connection with the shortage of skilled labour, spare parts, etc., but these have had to be met and for the most part have been surmounted.
A fleet of nearly 1,800 road machines, including motor vehicles, trailers and cycle carriers, is in operation, in addition to some 850 horsedrawn vehicles and 450 horses. The latter have been used, wherever possible, in the national intereits of economy in respect of both petrol and rubbor.
Included in the motors and trailers are 416 three-wheeled mechanicalhorse tractors working with 778 trailers, and 43 four-wheeled articulated ' tractors with 82 trailers.. These units permit advanced loading of trailers, and a subsequent speedier turn-round, so useful at the busier depots serving urban districts. In addition to these vehicles there are 57 service units which are used for various domestic purposei, these including motor sweepers, mobile canteens, cranes, etc.
In addition to dealing with normal traffic many of the motor vehicles have been used for war-emergency work, especially during the periods of enemy action, when men and materials of the engineering departments have been conveyed by road to points where rail equipment has been damaged. Other vehicles were earmarked in readiness for emergency calls in connection with A.R.P. work and the rapid concentration of members of the Home Guard to any point required and, although they have not been regularly used for these purposes, they have had to be taken into account in the allocation of strength of the entire fleet for various needs.
Constant supervision of the cartage agents' collection and delivery services was necessary at the 310 stations throughout the system in order to see that trucks were promptly cleared and traffics dealt with in the mbst efficient manner possible.
A new branch of activity on the road, which has been encompassed during the war by the Southern itailway, has been the linking of the various headquarters in their war-time locations with military and ministry headquarters, and important stations and junctions with divisional headquarters. It has also been frequently necessary rapidly to convey, expert staff to points where enemy activity has caused temporary dislocation of railway communications.
For this purpose, a. fleet of approximately 40 Small private cars, and 70 motorcycles, has been operating at various focal points, and these have played an outstanding part in the maintenance of rail communications in the Southern Counties, of vital importance during the war years.
Many of the drivers .(female and ex-Servicemen) employed on this work in the period of heavy air raids ran nightly risks, and had many narrow escapes, but, throughout the system, the personnel of the railway roadtransport department has shown a fine devotion to duty and, against heavy handicaps, has done a good job of work. In spite of the increased hazards of the roads, the drivers maintained a high standard of skill in safe driving, and, during 1943, out of 1,027 entries for the safe-driving competition, 94.45 per cent, qualified for awards.
Post-war Services to be Augmented
At, the present time changing conditions in the flow of traffic to and from stations brought about by the shiftrng population, necessitates frequent adjustments of the cartage strength and close supervision by the road transport department, but post-war services are not escaping their attention.
It is probable that, in the future, still greater use will be made of road transport by the Southern Railway, and the problem of reverting to normal work
ing will be a stiff proposition. In order to speed-up door-to-door transits. points of transhipment will have to be cut down to a minimum, or
• by-passed by direct road deliveries from • railheads over wider areas than hitherto.
The more rapid transfer of goods from rail to road will be possible with improved overhead and mobile cranes, whilst the railway container will continue its evolution towards the ideal of a common body for rail or road chassis. with a 'rapid methbd of transfer from one to the other.
The three-wheeled and four-wheeled tractors, with detachable trailers, lend themselves admirably to railway haulage, and are units which will -be expanded by the Southern Railway, which is always on the look out for the best tools for the job.