Possible Trend in Post-war Bus-body Design
8th December 1944
Page 23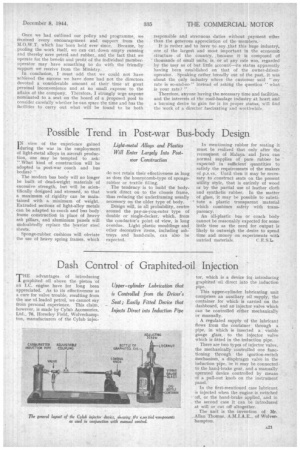 Page 23, 8th December 1944 —
Possible Trend in Post-war Bus-body Design
Close
Light-metal Alloys and Plastics Will Enter Largely Into Postwar Construction I N view of the experience gained
during the war in the employment of light-metal alloys in aircraft production, one may be tempted to ask: " What kind of construction will be adopted in post-war coach and bus bodies? "
The modern bus body will no longer be built of dead-weight materials of excessive strength, but will be scientifically designed and stressed, so that a maximum of rigidity can be maintained with a minimum of weight. Extruded sections of light-alloy metals can be adapted to coach and bus body frame construction in place of heavy ash pillars, and aluminium panels will undoubtedly replace the heavier steel sheets.
Sponge-rubber cushions will obviate the use of heavy spring frames, which do not retain their effectiveness as long as does the honeycomb-type of spongerubber or textile filling.
The tendency is to build the bodywork direct on to the chassis frame, thus reducing the underframing usually necessary on the older type of body.
Design will, in all probability, centre around the pay-as-you-enter type of double or single-decker, which, from the conductor's point of view, is long overdue. Light plastic mouldings and other decorative items, including ashtrays and hand-rails, can also be expected. In mentioning rubber for seating it must be realized that only after the reconquest of Malaya and Java can normal supplies of pure rubber be expectea in sufficient quantities to satisfy the requirements of the makers of p.s.vs. Until then it may be necessary to construct seats on the present utility style, that is entirely of wood or by the partial use of leather cloth and synthetic rubber. In the matter of glass, it may be possible to substitute a plastic transparent material which combines safety with transparency.
An all-plastic bus or coach body cannot be reasonably expected for some little time as the need for output is likely to outweigh the desire to spend time and money on experiments with untried materials. C.E.S.L.