Yorkshire Hits Out at Labour State Control Plan
8th December 1944
Page 21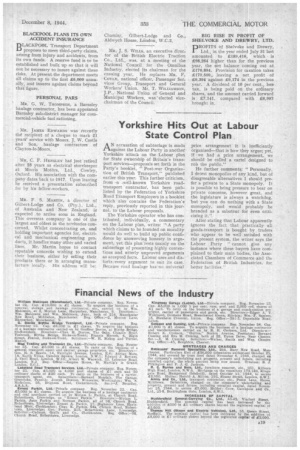 Page 21, 8th December 1944 —
Yorkshire Hits Out at Labour State Control Plan
Close
AN accusation of subterfuge is made against the Labour Party in another Yorkshire attack on the Labour plan for State ownership of Britain's transport services—proposals set forth in the Party's booklet, " Post-war Organization of British Transport," published earlier this year. This further criticism, from -a -well-known Yorkshire roadtransport contractor, has been published by the Federation of Yorkshire Road Transport Employers in a booklet which also contains the Federation's reply, previously reported in this journal, to the Labour proposals.
The Yorkshire operator who has contributed, individually, a commentary on the Labour plan, writes: A party which claims to be founded on morality would do well to build up public confidence by unswerving honesty in argument, yet this plan rests mainly on the subterfuge of presenting highly contentious and utterly unproved arguments as accepted facts. Labour uses and distaffs/ every argument to suit its case. Because road haulage has no universal price arrangement it is inefficiently organized—that is how they argue; yet, if we had a price arrangement, we should be called a cartel designed to rob the public."
He further comments: " Personally, I detest monopolies of any kind, but of disagreeable alternatives I should prefer a private to a State monopoly. It is possible to bring pressure to bear on private concerns, however great, and the legislature is always a watchdog, but you can do nothing with a State monopoly, and would probably be branded as a saboteur for even criticizing it."
Alter stating that Labour apparently ignores the fact that practically all goods-transport is bought by traders who appear to be well satisfied with the present system, the writer says the Labour Party " cannot give any instance where these buyers have complained to their main bodies, the Associated Chambers of Commerce and the Federation of British Industries, for better facilities."