Sir Miles Thomas on Planning and Transport
8th December 1944
Page 19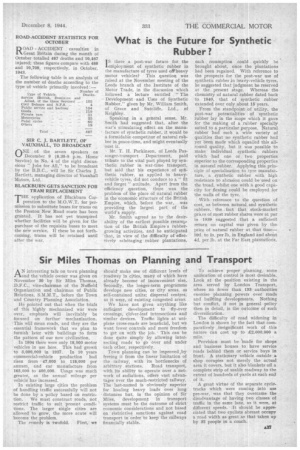 Page 19, 8th December 1944 —
Sir Miles Thomas on Planning and Transport
Close
AN interesting talk on town planning and the vehicle owner was given on November' 30 by Sir Miles Thomas, .D.F.C,, vice-chairman of the Nuffield Organization and chairman of Public
Relations, before the Town and Country Planning Association.
He pointed out that when the trials of this highly mechanized war were over, emphasis will inevitably be focused on further mechanization. This will mean roads, and they are the essential framework that we plan to furnish later with buildings to form the pattern of our new civilization.
In 1904 there were only 18,000 motor vehicles in use here. This had grown to 3,000,000 in 1937. In 10 years commercial-vehicle production had risen from 47,000 to 118,000 per annum and car manufacture from 165,006 to 400,000. Usage was much greater, as the annual mileage per vehicle has increased,
In existing large cities the problem of handling traffic successfully will not be done by a policy based on restriction. We must construct roads, not restrict traffic to suit present conditions. The larger single cities are allowed to grow, the more acute will become the problem.
The remedy is twofold. First, we
shouldmake use of different levels of roadway in cities, many of which have already become of inconvenient size. Secondly, the longer-tetra programme develops new cities, or city areas, as self-contained units: dispersal centres, as it were of existing congested areas.
We have not given anything like safficient development to fly-over crossings, clover-leaf intersections and similar devices. Traffic lights at uniplane cross-roads are beneficial, but we want fewer controls and more freedom to get on with the job. This can be done quite simply by allowing intersecting roads to go over and under each other, respectively.
Town planning can be improved ,by freeing it from the linear limitation of the railway, with its bottlenecks of arbitrary stations. Road transport, with its ability to operate over a network of radiations, offers vast advantages over the much-restricted railways The last-named is obviously superior for hauling heavy loads over long distances but, in the opinion of Sir Miles, development in transport systems must be the outcome of strict economic considerations and not based on restrictive sanctions against road transport in order to keep the railways financially stable. To achieve proper planning, some unification of control is most desirable. Look at the position existing in the area served by London Transport, where no fewer than 133 authoritiee exercise planning powers over roads and building developments. Nothing but conflict, if not in general policy then in detail, is the outcome of such diversification.
The difficulty of road widening in London is shown by the fact that comparatively insignificant work of this nature can cost up to 22,000,000 a mile.
Provision must be 'blade for shops and business houses to have service roads behind them or service bays in front. A stationary vehicle outside a shop occupies not merely the actual area it covers, but it also blankets off a complete strip of usable roadway to the extent of hundreds of yards at each end of it.
A great virtue of the separate cycletracks which were coming into use pre-war, was that they overcame the disadvantage of having two classes of traffic in the same lane, as it were, at different speeds. It should be appreciated that two cyclists abreast occupy a road width as great as that taken up by 32 people in a coach.