Planning and Transport Must March Together
8th December 1944
Page 16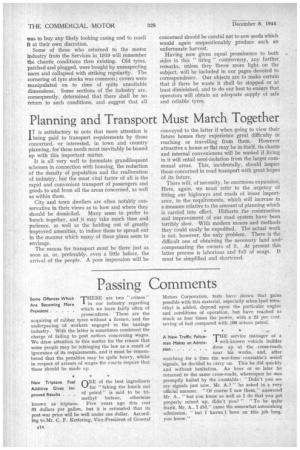 Page 16, 8th December 1944 —
Planning and Transport Must March Together
Close
TT is satisfactory to note that more attention is being paid to transport requirements by those concerned, or interested, in town and country planning, for these needs must inevitably be bound up with this important matter. It is all very well to formulate grandiloquent schemes in connection with housing, the reduction of the density of population and the reallocation of industry, but the most vital factor of all is the rapid and convenient transport of passengers and goods to and from all the areas Concerned, as well as within them.
City and town dwellers are often notably conservative in their views as to how and where they should be domiciled. Many seem to prefer to bunch together, and it may take much time and patience, as well as the holding out of greatly improved amenities, to induce them to spread out in the manner which many of these plans seem to envisage.
The means for transport must be there just as soon as, or, preferably, even a little before, the arrival of the people. A poor impression will be conveyed to the latter if when going to view their future homes they experience great difficulty in reaching or travelling from them. However attractive a house or flat may be in itself, its charm and internal conveniences will be wasted if living in it will entail semi-isolation from the larger communal areas. This, incidentally, should inspire those concerned in road transport with great hopes of its future.
There will, of necessity, be enormous expansion. Here, again, we must refer to the urgency of fitting our highways and roads of lesser importance, to the requirements, which will increase in a measure relative to the amount of planning which is carried into effect. Hitherto the construction and improvement of our road system have been terribly slow. With modern means and methods they could easily be expedited. The actual work is not, however, the only problem. There is the difficult one of obtaining the necessary land and' compensating the owners of it. At present this latter process is laborious and full of snags. It must be simplified and shortened.