Passing Comments
8th December 1944
Page 16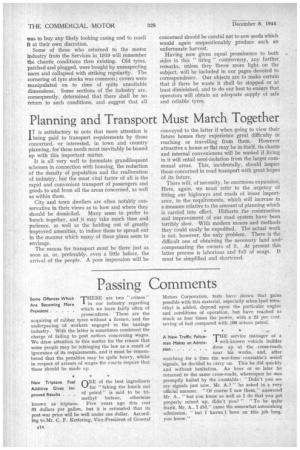 Page 17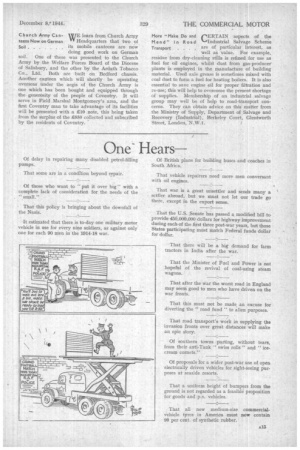 Page 16, 8th December 1944 —
Passing Comments
Close
Some Offences Which THERE are two "crimes" Are Becoming More I in our industry regarding Prevalent which we learn fairly often of
prosecutions. These are the acquiring of rubber tyres without a licence, and the underpaying of workers engaged in the haulage industry. With the latter is sometimes combined the charge of failing to post notices concerning wages. We draw attention to this matter for the reason that some people may be infringing the law as a result of ignorance of its requirements, and it must be remembered that the penalties may be quite heavy, whilst in respect of arrears of wages the courts require that these should be made up
nNE of the best ingredients for "taking the knock out of petrol" is said to be trimethylbutane, otherwise known as triptane. Five years ago this cost 35 dollars per gallon, but it is estimated that its post-war price will be well under one dollar. According to Mr. C. F. Kettering, Vice-President of General New Triptane Fuel Additive Gives Improved Results . . .
Motors Corporation, tests have shown that gains possible with this material, especially when lead tetraethyl is added, depend upon the particular engine and conditions of operation, but have reached as much as four times the power, with a 25 per cent. saving of fuel compared with 100 octane petrol.
THE service manager of a well-known vehicle builder drew up at the cross-roads near his works, and, after watching for a time the war-time constable's weird -signals, he decided to carry on. This he did quickly and without hesitation. An hour or so later he returned to the same cross-roads, whereupon he was promptly hailed by the constable: "Didn't you see my signals just now, Mr. A.?" he asked in a very official manner. "Of course I saw them," answered Mr. A., "but you know as well as I do that you got properly mixed up, didn't you? " "To be quite frank, Mr. A., I did," came the somewhat astonishing admission, "but I haven:t been on this job long, you know."
A New Traffic Policeman Makes an Admis sion
Church Army Can. WE learn from Church Army teens Now on German vv Headquarters that two of Soil ... .. . . its mobile canteens are now
doing good work on German soil. One of these was presented to the Church Army by the Welfare Forces Board of the Diocese of Salisbury, and the other by the Ardath Tobacco Co., Ltd. Both are built on Bedford chassis. Another canteen which will shortly be operating overseas under the aegis of the Church Army is one which has been bought and equipped through the generosity of the people of Coventry. It will serve in Field Marshal Montgomery's area, and the first Coventry man to take advantage of its facilities will be presented with a £10 note, this being taken from the surplus of the £850 collected and subscribed by the residents of Coventry.
More "Make Do and rERTALN aspects of the Mend" In Road 1,-'Industrial Salvage Scheme
Transport . . . are of particular interest, as
well as value. For example, residue from dry-cleaning stills is refined for use as fuel for oil engines, whilst dust from gas-producer. plants is employed in the manufacture of building material. Used axle grease is sometimes mixed with coal dust to form a fuel for heating boilers. It is also essential to save engine oil for proper filtration and re-use; this will help to overcome the present shortage of supplies. Membership of an industrial salvage group may well be of help to road-transport concerns. They can obtain advice on this matter from the Ministry of Supply, Department of Salvage and Recovery (Industrial), Berkeley Court, Glentworth Street, London, N.W.1.