Agrimotors
8th December 1933
Page 56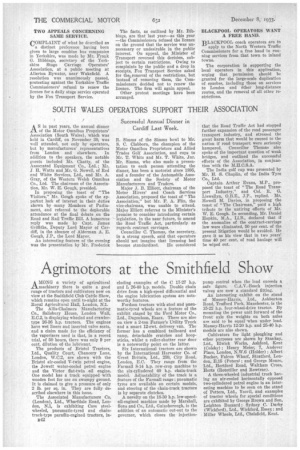 Page 56, 8th December 1933 —
Agrimotors
Close
at the Smithfield Show 11A MONG a variety of agricultural
machinery there is quite a good range of tractors and cultivators now on view at the Smithfield Club Cattle Show, which remains open until to-night at the Royal Agricultural Hall, London, N.1.
The Allis-Chalmers Manufacturing Co., Salisbury House, London Wall, E.C.2, is displaying wheeled and crawlertype 26-36 h.p. tractors. The engines have wet liners and inserted valve seats, and a claim made for the efficiency of the vaporizers used is that, in a recent trial, of 50 hours, there was only 9 per cent, dilution of the lubricant.
The products of Bristol Tractors, Ltd., Quality Court, Chancery Lane, London, W.C.2, are shown with the Bristol air-cooled V-twin petrol engine, the Jewett water-cooled petrol engine and the Victor fiat-twin oil engine. One model has a track equipped with wooden feet for use on swampy ground. It is claimed to give a pressure of only 2 lb. per sq. in. They are fully described elsewhere in this issue.
The Associated Manufacturers Co. (London), Ltd., Wharfdale Road, London, N.1, is exhibiting Case steelwheeled, pneumatic-tyred and chaintrack-type paraffin-engined tractors, in 842 eluding examples of the C 17-27 h.p. and L 26-40 h.p. models. Double chain drive from a high-speed differential and the engine lubrication system are noteworthy features.
Fordson tractors with steel and pneuroatie-tyred wheels are a feature of the exhibit staged by the Ford Motor Co., Ltd., Dagenham, Essex. There are also on view a 2-ton Farmer's Utility Truck and a smart 12-ewt, delivery van. The former has a combined tailboard and ramp, detachable cratches and hoopsticks, whilst a roller-shutter rear door is a noteworthy point on the latter.
Six International tractors are shown by the International Harvester Co. of Great Britain, Ltd., 259, City Road, London, E.G. They range from the Farman 8-14 h.p. row-crop machine to the six-eylindered 40 h.p. chain-track model. Adjustability of the track is a feature of the Farmall range ; pneumatic tyres are available on certain models, and steering of the chain-track tractors is by separate clutches.
A novelty on the 18-30 h.p. low-speedoil-engined machine made by Marshall, Sons and Co., Ltd., Gainsborough, is the addition of an automatic cut-out to the governor, which closes the injection pump control when the load exceeds a safe figure. C.A.V.-Bosch injection valves are now a standard fitting. An interesting exhibit on the stand of Massey-Harris, Ltd., Ashburton Road, Trafford Park, Manchester, is the 15-22 h.p. four-wheel-drive tractor. By mounting the power unit forward of the front axle the weights on both axles are said to be equal when under load. Massey-Harris 12-20 h.p. and 25-40 h.p. models are also shown.
Cultivators for light ploughing and other purposes are shown by Stanhay, Ltd., Elwick Works, Ashford, Kent (Coleby) ; Henry Meier, 7, Andover Place, London, N.W.6 (Holder) ; Albert Bucher, Falcon Wharf, Stratford, London, E.15 (Peters) ; and George Mourn, Ltd., Hertford Road, Waltham Cross, Heists (Rototiller and Rowtrac). A three-wheeled industrial truck having an air-cooled horizontally opposed two-cylindered petrol engine is an interesting machine to be seen on the stand of Petters, Ltd., Yeovil, and examples of tractor wheels for special conditions are exhibited by George Brown and Son, Leighton Buzzard ; Sydney C. Darby (Wickford), Ltd., Wickford, Essex ; and Miller Wheels, Ltd., Chelsfield, Kent.