The Administration of the Road Fund
8th December 1933
Page 44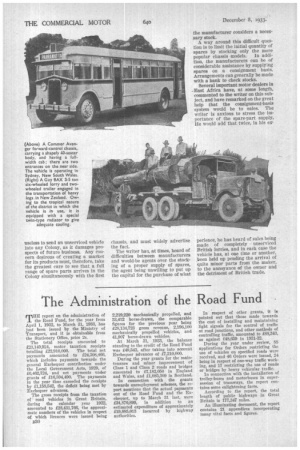 Page 44, 8th December 1933 —
The Administration of the Road Fund
Close
HE report on the administration of _L the Road Fund, for the year from April 1, 1932, to March 31, 1933, has just been issued by the Ministry of Transport, and it is obtainable from the Stationery Office, price 2s.
The total receipts amounted to £23,149,924, motor taxation receipts totalling £22,910,000. The total net payments amounted to £24,308,466, which includes payments towards the general Exchequer contribution under the Local Goternment Acts, 1929, of £6,462,724, and net payments under grants of 116,594,490. The payments in the year thus exceeded the receipts by £1,158,542, the deficit being met by Exchequer advances.
The gross receipts from the taxation of road vehicles in Great Britain, during the calendar year nun, amounted to £28,431,766, the approximate numbers of the vehicles in respect of which licences were issued being J330 2,219,220 meehanically propelled, and 33,412 horse-drawn, the comparable figures for the previous year being £28,134,723 gross revenue, 2,196,100 mechanically propelled vehicles, and 41,907 horse-drawn vehicles.
At March 31, 1933, the balance standing to the credit of the Road Fund was £49,543, after taking into account Exchequer advances of £7,210,000.
During the year grants for the maintenance and minor improvement of Class 1 and Class 2 roads and bridges amounted to £7,182,050 in England and Wales, and £1,085.,309 in Scotland.
In connection with the grants towards unemployment schemes, the report mentions that the actual payments out of the Road Fund and the Exchequer, up to March 31 last, were /34,870,899, in addition to an estimated expenditure of approximately £19,885,013 incurred by highway authorities.
In respect of other grants, it is pointed out that those made towards the cost of installing and maintaining light signals for the control of traffic at road junctions, and other m.ethods of controlling traffic, amounted to 188,343, as against £48,659 in 1931-32.
During the year under review, 88 applications for Orders restricting the use of vehicles on specified roads were received, and 46 Orders were issued, 24 being in respect of one-way traffic working, and 17 restricting the use of roads or bridges by heavy vehicular traffic.
In connection with the installation of trolley-buses and motorbuses in supersession of tramways, the report eonthins some enlightening facts.
According to the report, the total length of public highways in Great Britain is 177,347 miles.
An illuminating document, the report contains 21 appendices incorporating many vital facts and figures.