A Portable Weighing Machine
8th December 1933
Page 41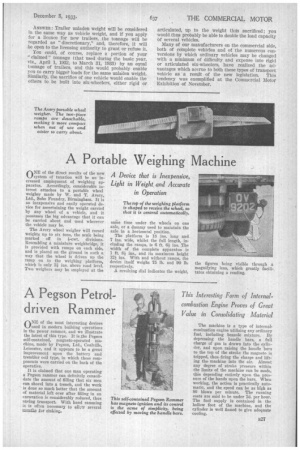 Page 41, 8th December 1933 —
A Portable Weighing Machine
Close
A Device that is Inexpensive, Light in Weight and Accurate in Operation
ONE of the direct results of the new system of taxation will be an increased employment of weighing apparatus. Accordingly, considerable interest attaches to a portable wheel weigher made by W. and T. Avery, Ltd., Soho Foundry, Birmingham. It is an inexpensive and easily operated device for ascertaining the weight carried by any wheel of a vehicle, and it possesses the big advantage that it can be carried about and used wherever the vehicle may be.
The Avery wheel weigher will record weights up to six tons, the scale being marked off in i-cwt. divisions. Resembling a miniature weighbridge, it is provided with ramps on each side, and is placed on the ground in such a way that the wheel is driven up the ramp on to the weighing platform, which is only 3# ins, above road level. Two weighers may be employed at the
smile time under the wheels on one axle, or a dummy used to maintain the axle in a horizontal position.
The platform is 18 ins, long and7 ins, wide, whilst the full length, including the ramps, is 6 ft. 61. ins. The width of the complete apparatus is 1 ft. Si ins., and its maximum height 121 ins. With and without ramps, the device itself weighs 75 lb. and 90 lb. respectively.
A revolving dial indicates the weight,