Passing Comments
8th December 1933
Page 32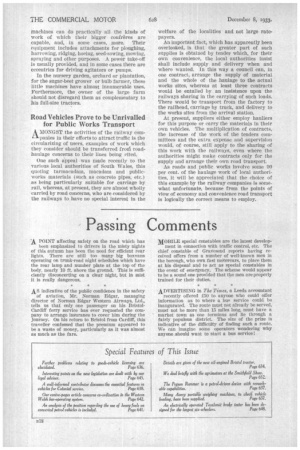 Page 32, 8th December 1933 —
Passing Comments
Close
A POINT affecting safety on the road which has been emphasized to drivers in the misty nights of this autumn has been the need for efficient rear lights. There are still too many big boxvans operating on trunk-road night schedules which have the rear lamp and number plate at the top• of the body, nearly 10 ft. above the ground. This is sufficiently disconcerting on a clear night, but in mist it is really dangerous.
AS indicative of the public confidence in the safety of aviation, Mr. Norman Edgar, managing director of Norman Edgar Western Airways, Ltd., tells us that only one passenger on his BristolCardiff ferry service has ever requested the company to arrange insurance to cover him during the journey. On his return to Bristol from Cardiff, this traveller confessed that the premium appeared to be a waste of money, particularly as it was almost as much as the fare. MOBILE special constables are the latest develop
ment in connection with traffic control, etc. The chief constable of Gravesend reports having received offers from a number of well-known men in the borough, who own fast motorcars, to place them at his disposal arid to act as special constables in the event of emergency. The scheme would appear to be a sound one provided that the men are properly trained for their duties.
ADVERTISING in The Times, a Leeds accountant recently offered i50 to anyone who could offer information as to where a bus service could be inaugurated. The route must not already be served, must not be more than 15 miles long, must have a market town as one terminus and lie through a fairly populous district. The size of the prize is indicative of the difficulty of finding such a route. We can imagine some operators wondering why anyone ,should want to start a bus service