A Tower Wages /Or South Africa.
8th December 1925
Page 6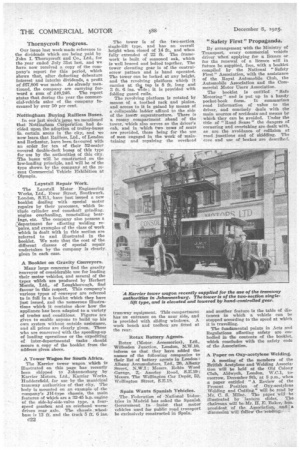 Page 6, 8th December 1925 —
A Tower Wages /Or South Africa.
Close
The Karrier tower wagon which is illustrated en this page has recently been shipped to Johannesburg by Karrier Motors, Ltd., Karrier Works, Huddersfield, for use by the municipal tramway authorities of that city. The body is mounted on an example of the company's JEf-type chassis, the main features of which are a 32-45h.p. engine of the side-by=side-valve type, a fourspeed gearbox and an overhead wormdriven rear axle. The chassis .wheelbase is 13 ft. and the track 6 ft. 13 ins. The tower is of the two-section single-lift type, and has an overall height when closed of 14 ft., and when fully extended of 22 ft. The framework is built of seasoned oak, which is well braced aud bolted together. The tower elevating gear is of the centralscrew pattern and is hand operated. The tower can be locked at any height, and the revolving platform which it carries at thio top is 8 ft. long and 3 ft. 6 ins. wide ; it IS provided with folding guard rails.
The revolving platform is rotated by means of a toothed rack and pinion, and access to it is gained by means of a collapsable ladder affixed to the side of the taw et superstructure. There is a roomy compartment ahead of the tower, which also serves as the driver's cab, and in which two rows of seats are provided, these being for the use of men engaged in the work of maintaining and repairing the overhen d tramway equipment. This compartment has an entrance on the near side, and is provided with sliding windows. A work bench and toolbox are fitted at the rear.