Dennis's Successful Year.
8th December 1925
Page 4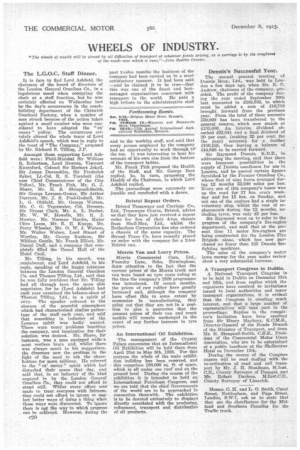 Page 4, 8th December 1925 —
Dennis's Successful Year.
Close
The annual general meeting of Dennis Bros., Ltd., was held in London a few days ago, when Mr. N. P. Andrew, chairman of the company, pre-sided. The profit of the company during the year ended September 30th last amounted to £202,533, to which must be added a sum of £16,719 brought forward from the previous year. From the total of these amounts £50,000 has been transferred to the general reserve, which now stands at £155,000. An interim dividend absorbed £25,041 and a final dividend of 20 per cent. (making 25 per cent, for the year) accounts for a further £100,165, thus leaving a balance of £44,046 to be carried forward.
Sir Raymond Dennis, K.B.E., in, addressing the meeting, said that there were immense possibilities in the supply of Dennis omnibuses for use in London, and he quoted certain figures furnished by the Premier Omnibus Co., whose -fleet of nine buses averaged during 12 months 52,240 miles per bus. Every one of this company's buses was on the road for 17 hrs every weekday and for 13 hrs. on Sunday, and not one of the engines had a single involuntary stop, whilst the cost of replacements during the 12 months, excluding tyres, was only £5 per bus. • Sir Raymond went on to refer to the progress of the company's fire-engine department, and said that at the present time 11 motor fire-engines are being constructed for the London Fire Brigade alone, which has now purchased no fewer than 125 Dennis firefighting machines.
The sales of the company's motor lawn mower for the year under review show a very substantial increase.