THE VALUE OF THE BUS TO MUNICIPALITIES.
8th December 1925
Page 23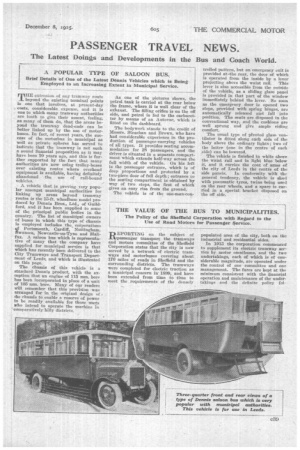 Page 24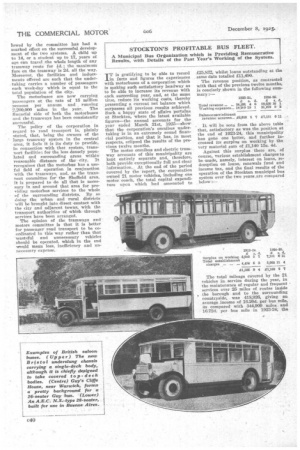 Page 23, 8th December 1925 —
THE VALUE OF THE BUS TO MUNICIPALITIES.
Close
The Policy of the Sheffield Corporation with Regard to the Use of Road Motors for Passenger Service.
REPORTING on the subject of passenger transport the tramways and motors committee of the Sheffield Corporation states that the city is now served by a network of electric tramways and motorbuses covering about 170 miles of roads in Sheffield and the surrounding districts. The tramways were completed for electric traction as a municipal concern in 1899, and have been extended from time to time to meet the requirements of the densely populated area of the city, both on the industrial and residential sides.
In 1913 the corporation commenced to supplement its electric tramway service by motor omnibuses, and the two undertakings, each of which is of considerable magnitude, are operated under the control of one committee and one management. The fares are kept at the minimum consistent with the financial operation and maintenance of the undertakings and the definite policy fol.
lowed by the committee has had a marked effect on the successful development of the two systems. A child up to 14, or a student up to 17, years of age can travel the whole length of any tramway route for id.; the maximum fare on the tramway is 2d. all the way. Moreover, the facilities and inducements offered are such that the undertaking carries a number of passengers each week-day which is equal to the total population of the city.
The motorbuses are now carrying passengers at the rate of 15 million persons per annum and running 2,200,000 miles in the year. The financial side of both the motorbuses and the tramways has been consistently successful.
The policy of the corporation in regard to 'road transport is, plainly stated, that, being the owners of the ' large tramway system in the central area, it feels it is its duty to provide, in connection with that system, transDort facilitiea for the less densely populated and surrounding areas within, reasonable distance of the city. It recognizes that the motorbus has a use ful field of operation in conjunction with the tramway; and, as the transnort committee for the Sheffield area, it is prepared to do all that is necessary in and around that area for providing motorbus services to the whole of the surrounding districts. By so doing the urban and rural districts will be brought into direct contact with the city and adjacent towns, with the transport authorities of which through services have been arranged.
The opinion of the tramways and motors committee is that it is better for passenger road transport to be coordinated in this way rather than that wasteful and unnecessary vehicles should be operated, which in the end would mean loss, inefficiency and unnecessary expense.