BRIEFS
8th August 1996
Page 6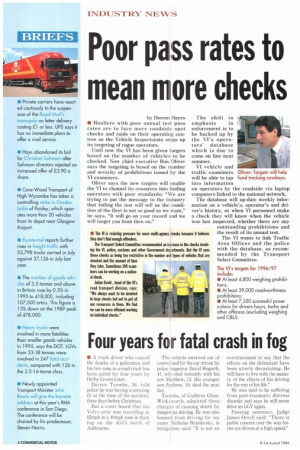 Page 6, 8th August 1996 —
BRIEFS
Close
• Private carriers have reacted cautiously to the suspension of the Royal Mail's monopoly on letter delivery costing Cl or less. UPS says it has no immediate plans to offer a rival service.
• Hays abandoned its bid for Christian Salvesen after Salvesen directors rejected an increased offer of 0.90 a share.
• Cave Wood Transport of High Wycombe has taken a controlling stake in Gordon Leslie of Paisley, which operates more than 20 vehicles from its depot near Glasgow Airport.
• Eurotunne, reports further rises in freight traffrc with 53,798 trucks carried in July against 37,126 in July last year.
• The number of gpods vehicles of 3.5 tonnes and above in Britain rose by 0.5% in 1995 to 418,000, including 107,000 artics. This figure is 13% down on the 1989 peak of 478,000.
• Heavy trucks were
involved in more fatalities than smaller goods vehicles in 1995, says the DOT. LGVs from 33-38 tonnes were involved in 247 fatal accidents, compared with 126 in the 3.5-16-tonne class.
• Newly appointed
Transport Minister John Bowis will give the keynote address at this year's RHA conference in San Diego. The conference will be chaired by his predecessor, Steven Norris.