'It should be made
8th August 1996
Page 47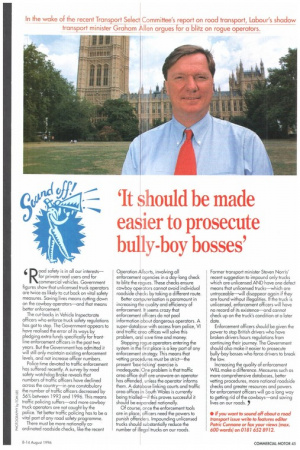 Page 47, 8th August 1996 —
'It should be made
Close
easier to prosecute bully-boy bosses' 6 R
oad safety is in all our interests— for private road users and for commercial vehicles. Government Figures show that unlicensed truck operators are twice as likely to cut back on vital safety measures. Saving lives means cutting down on the cowboy operators—and that means better enforcement.
The cut-backs in Vehicle Inspectorate officers who enforce truck safety regulations has got to stop. The Government appears to have realised the error of its ways by pledging extra funds specifically for frontline enforcement officers in the past two years. But the Government has admitted it will still only maintain existing enforcement levels, and not increase officer numbers.
Police time devoted to traffic enforcement has suffered recently. A survey by road safely watchdog Brake reveals that numbers of traffic officers have declined across the country—in one constabulary the number of traffic officers decreased by 56% between 1993 and 1996. This means traffic policing suffers—and more cowboy truck operators are not caught by the police. Yet better traffic policing has to be a vital part of any road safety programme. There must be more nationally coordinated roadside checks, like the recent Operation Allsorts, involving all enforcement agencies in a clay-long check to blitz the rogues. These checks ensure cowboy operators cannot avoid individual roadside checks by taking a different route.
Better computerisation is paramount in increasing the cuality and efficiency of enforcement. It seems crazy that enforcement officers do not pool information about dangerous operators. A super-database with access from police, VI and traffic area offices will solve this problem, and save time and money.
Stopping rogue operators entering the system in the first place is a key part of any enforcement strategy. This means that vetting proceclu-es must be strict—the present 'box-ticking' exercise is inadequate. One problem is that traffic area office staff are unaware an operator has offended, unless the operator informs them_ A database linking courts and traffic area offices in South Wales is currently being trialled—if this proves successful it should be expanded nationally. Of course, once the enforcement tools are in place, officers need the powers to punish offenders. Impounding unlicensed trucks should substantially reduce the number of illegal trucks on our roads. Former transport minister Steven Norris' recent suggestion to impound only trucks which are unlicensed AND have one defect means that unlicensed trucks--which are untraceable—will disappear again if they are found without illegalities. If the truck is unlicensed, enforcement officers will have no record of its existence—and cannot check up on the truck's condition at a later date.
Enforcement officers should be given the power to stop British drivers who have broken drivers hours regulations from continuing their journey. The Government should also make it easier to prosecute bully-boy bosses who force drivers to break the law.
Increasing the quality of enforcement WILL make a difference. Measures such as more comprehensive databases, better vetting procedures, more national roadside checks and greater resources and powers for enforcement officers will go a long way to getting rid of the cowboys--and saving lives on our roads. /