ViewS from behind the wheel
8th August 1996
Page 43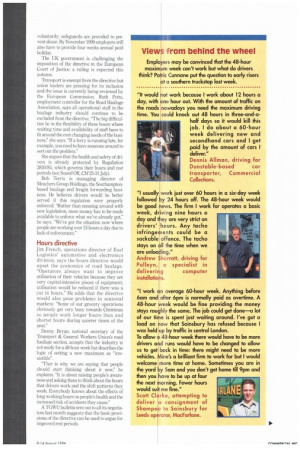 Page 44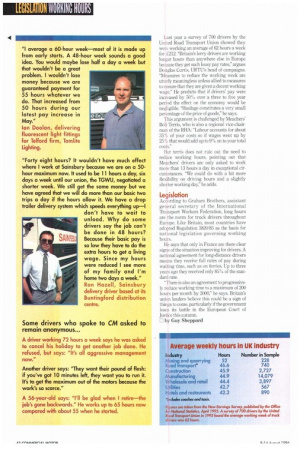 Page 43, 8th August 1996 —
ViewS from behind the wheel
Close
Employers may be convinced that the 48-hour maximum week can't work but what do drivers think? Patric Cunnane put the question to early risers at a southern truckstop last week.
"It would not work because I work about 12 hours a day, with one hour out. With the amount of traffic on the roads nowadays you need the maximum driving time. You could knock out 48 hours in three-and-ahalf days so it would kill this job. I do about a 60-hour week delivering new and secondhand cars and I get paid by the amount of cars I deliver."
Dennis Allman, driving for Dunstable-based car transporter, Commercial Collections.
"I usually work just over 60 hours in a six-day week followed by 24 hours off. The 48-hour week would be good news. The firm I work for operates a basic week, driving nine hours a day and they are very strict on drivers' hours. Any tacho infringements could be a sackable offence. The tacho stays on all the time when we are unloading."
Andrew Sh,-ratt, driving for Pulleyn, specialist in delivering computer installations.
"I work an average 60-hour week. Anything before 6am and after 6pm is normally paid as overtime. A 48-hour week would be fine providing the money stays roughly the same. The job could get done—a lot of our time is spent just waiting around. I've got a load on now that Sainsbury has refused because I was held up by traffic in central London.
To allow a 48-hour week there would have to be more drivers and runs would have to be changed to allow us to get back in time: there might need to be more vehicles. Mine's a brilliant firm to work for but I would welcome more time at home. Sometimes you are in the yard by Sam and you don't get home till 9pm and then you have to be up at four the next morning. Fewer hours would suit me fine."
Scott Clarke, attempting to deliver ci consignment of Shampoo to Sainsbury for Leeds operator, MacFarlane. "I average a 60-hour week—most of it is made up from early starts. A 48-hour week sounds a good idea. You would maybe lose half a day a week but that wouldn't be a great problem. I wouldn't lose money because we are guaranteed payment for 55 hours whatever we do. That increased from 50 hours during our latest pay increase in May."
kin Doolon, delivering fluorescent light fittings for Telford firm, Tamlite Lighting.
"Forty eight hours? It wouldn't have much effect where I work at Sainsbury because we are on a 50 hour maximum now. It used to be 11 hours a day, six days a week until our union, the TGWU, negotiated a shorter week. We still get the same money but we have agreed that we will do more than our bask two trips a day if the hours allow it. We have a drop trailer delivery system which speeds everything up—I don't have to wait to unload. Why do some drivers say the job can't be done in 48 hours? Because their basic pay is so low they have to do the extra hours to get a living wage. Since my hours were reduced I see more of my family and I'm home two days a week." Ron Hazell, Sainsbury delivery driver based at its Buntingford distribution centre.