LIQU ID
8th August 1996
Page 40
Page 41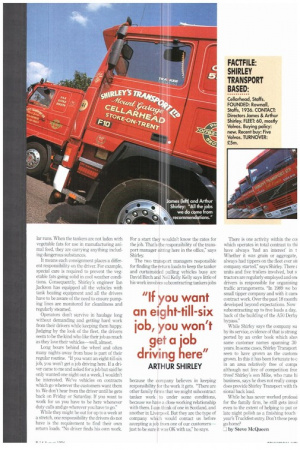 Page 40, 8th August 1996 —
LIQU ID
Close
ASSETS
Although it was edging towards the late summer evening at the Shirley Transport depot in Cellerhead, Staffordshire, you could be forgiven for thinking the early morning shift had just started. Fitters were shunting vehicles around the yard and in and out of the workshop. Drivers were washing down cabs of various ages—all of which looked in such pristine condition, they made the Volvo which had just arrived from the dealership showroom look lonely and unloved. Somehow, you get the impression it won't remain unloved for long.
Such attention to detail and apparent devotion to duty is perhaps one of the reasons why the Shirley Transport drivers came so close to picking up the Best Kept Fleet award at Commercial Motor's. Truckfest earlier this year.
Second place is no disgrace. However driver Clayton King, whose truck is emblazoned with the name Paradise City, wanted to make one point very strongly: "There's no dressing these trucks up specially for the competition, We don't take the wheel trims off and put them away until next year. The trucks look that way all year round." And it's not just on the outside. You ought to take a look inside as weir
Shirley Transport is a n-aditional familyoperated haulage company, specialising in liquid bulk tanker work and currently celebrating 60 years in the business. It began as a cattle haulage business, moved into furniture removal and meat distribution, then
transporting grain for local corn mills before getting deeper into general haulage.
"What put this company on its feet was a contract with the Inde Coope brewery in 1964. We used to feed Plymouth, Torquay and all the south-west coast resorts. Before that, the drivers were used to manually loading everything. Suddenly they were on pallet work," says Arthur Shirley. However, every time a vehicle was added to the fleet it seemed to be a tanker. By the time the contract ended in 1974, the company didn't really feel the pinch and was firmly established in the bulk tanker business.
About half of the fleet is on bulk liquid contract work, with some others carrying palletised adhesives in the company's few curtainsiders. The rest of the fleet works on spot hire. "Mind you, we never go advertising for work. All the jobs we do come from recommendations, or additional work to the contract business we've already got," says director Shirley. He runs the transport side while fellow director and broth
er James runs the growing workshop business, which also employs James's son Glen.
A night shift has been added to cope with the demands of keeping the 60-strong fleet on the road. Work takes the drivers to most parts of the UK but never abroad. Cornwall, London and the South-East and Aberdeen are all regu
lar runs. When the tankers are not laden with vegetable fats for use in manufacturing animal feed, they are carrying anything including dangerous substances.
It means each consignment places a different responsibility on the driver. For example, special care is required to prevent the vegetable fats going solid in cool weather conditions. Consequently. Shirley's engineer Ian Jackson has equipped all the vehicles with tank heating equipment and all the drivers have to be aware of the need to ensure pumping lines are monitored for cleanliness and regularly steamed.
Operators don't survive in haulage long without demanding and getting hard work from their drivers while keeping them happy. Judging by the look of the fleet, the drivers seem to be the kind who like their job as much as they love their vehicles—well, almost.
Long hours behind the wheel and often many nights away from base is part of their regular routine. "If you want an eight-till-six job, you won't get a job driving here. If a driver came to me and asked for a job but said he only wanted one night out a week, I wouldn't be interested_ We've vehicles on contracts which go wherever the customers want them to. We don't hear from the driver until he gets back on Friday or Saturday. If you want to work for us you have to be here whenever duty calls and go wherever you have to go."
While they might be out for up to a week at a stretch, one responsibility the drivers do not have is the requirement to find their own return loads. 'No driver finds his own work. For a start they wouldn't know the rates for the job. That's the responsibility of the transport manager sitting here in the office," says Shirley The two transport managers responsible for finding the return loads to keep the tanker and curtainsided pulling vehicles busy are David Birch and Neil Kelly. Kelly says little of his work involves subcontracting tankers jobs
because the company believes in keeping responsibility for the work it gets. "There are other family firms that we might subcontract tanker work to under some conditions, because we have a close working relationship with them. I can think of one in Scotland, and another in Liverpool. But they are the type of company which would contact us before accepting a job Inn one of our customers— just to be sure it was OK with us," he says. There is one activity within the col which operates in total contrast to thi have always 'had an interest in t Whether it was grain or aggregate, always had tippers on the fleet ever sii company started," says Shirley. There E. units and five trailers involved, but s tractors are regularly employed and on drivers is responsible for organising traffic arrangements. "In 1989 we ho small tipper company and with it cam' contract work. Over the past 18 month: developed beyond expectations. Now subcontracting up to five loads a day, back of the building of the A50 Derby bypass."
While Shirley says the company su by its service, evidence of that is strong ported by an order book which shoi same customer names spanning 30 years. In some cases, Shirley Transport seen to have grown as the ctistomt grownin this it has been fortunate to o in an area relatively free of comp( although not free of competition fror fives! Shirley's son Mike, who runs hi business, says he does not really comp does provide Shirley Transport with th sional back load.
While he has never worked professi for the family firm, he still gets invol even to the extent of helping to put or late night polish as a finishing touch year's Truckfest entry. Don't these peop go home?
_1 by Steve McQueen