F orgive the average haulier for lifting an eyebrow at the
8th August 1996
Page 38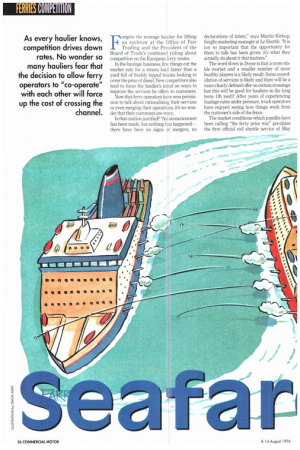 Page 39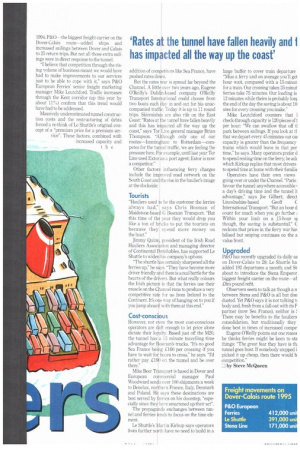 Page 38, 8th August 1996 —
F orgive the average haulier for lifting an eyebrow at the
Close
Office of Fair Trading and the President of the Board of Trade's combined ruling about competition on the European ferry routes.
In the haulage business, few things cut the market rate for a return load faster than a yard full of freshly tipped trucks looking to cover the price of diesel. New competitors also tend to focus the haulier's mind on ways to improve the services he offers to customers.
Now that ferry operators have won permission to talk about rationalising their services or even merging their operations, it's no wonder that their customers are wary.
Is that caution justified? An announcement has been made, but nothing has happened— there have been no signs of mergers, no
declarations of intent," says Martin Kirkup, freight marketing manager at Le Shuttle. "It is not so important that the opportunity for them to talk has been given; it's what they actually do about it that matters."
The word down in Dover is that a more stable market and a smaller number of more healthy players is a likely result. Some consolidation of services is likely and there will be a more clearly defined offer on certain crossings but this will be good for hauliers in the long term. Oh yeah? After years of experiencing haulage rates under pressure, truck operators have enjoyed seeing how things work from the customer's side of the fence.
The market conditions which pundits have been calling "the ferry price war" pre-dates the first official rail shuttle service of May 1994. P&O—the biggest freight carrier on the Dover-Calais route—added ships and increased sailings between Dover and Calais to 29 return trips. But not all those extra sailings were in direct response to the tunnel.
"I believe that competition through the rising volume of business meant we would have had to make improvements to our services just to be able to cope with it," says P&O European Ferries' senior freight marketing manager Mike Leutchford. Traffic increases through the Kent corridor (up this year by about 11 ° of confirm that this trend would have had to be addressed.
Massively underestimated tunnel construction costs and the restructuring of debts forced a re-think of Le Shuttle's original concept of a "premium price for a premium service". These factors, combined with increased capacity and the addition of competitors like Sea France, have pushed rates down.
But the rates war is spread far beyond the Channel. A little over two years ago, Eugene O'Reilly's Dublin-based company O'Reilly Transport International could choose from two boats each day in and out for his unaccompanied traffic. Today it is up to 11 round trips. Skirmishes are also rife on the East Coast: "Rates at the amnel have fallen heavily and this has impacted all the way up the coast," says Tor Line general manager Brian Thompson. "Although only one of our routes—Immingham to Rotterdam—competes for the twin& traffic, we are feeling the pressure here. For example, until last year Tor Line used Extor as a port agent; Extor is now a competitor."
Other factors influencing ferry charges include the improved road network on the South Coast and the rise in the haulier's image at the dockside:
Tourists
"Hauliers used to be the customer the ferries always had," says Chris Bosman of Maidstone-based G Bosman Transport. "But this time of the year they would drop you like a ton of bricks to put the tourists on because they spend more money on the boat."
Jimmy Quinn, president of the Irish Road Hauliers Association and managing director of Continental Perishables, has supported Le Shuttle to widen his company's options.
"The shuttle has certainly sharpened all the ferries up," he says. "They have become more driver friendly and there is a real battle for the hearts of the drivers. But what really colours the Irish picture is that the ferries use their muscle on the Channel runs to produce a very competitive rate for us from Ireland to the Continent. It's one way of hanging on to you if you jump aboard with them at this end."
Cost-conscious
However, not even the most cost-conscious operators are daft enough to let price alone dictate their loyalty Based just off the M20, the tunnel has a 15 minute travelling time advantage for Bosnian's trucks. "It's no good Sea France being £160 per crossing if you have to wait for hours to cross," he says. "I'd rather pay £190 on the tunnel and be over there."
Mike Beer Transport is based in Dover and European commercial manager Paul Woodward sends over 100 shipments a week to Benelux, northern France, Italy, Denmark and Poland. He says these destinations are best served by fernes on his doorstep, "especially since they have smartened up their act".
The propaganda exchanges between tunnel and ferries tends to focus on the time element.
Le Shuttle's Martin Kirkup says operators from further north have no need to build in a large buffer to cover train departure "Miss a ferry and on average you'll get hour wait, compared with a 15-minut for a train. Our crossing takes 35 minut ferries take 75 minutes. Our loading is 12 minutes while theirs is probably loni the end of the day the saving is about 10 utes for every crossing you make."
Mike Leutchford counters that I check-through capacity is 120 pieces of i per hour: "We can swallow that off [I park between sailings. If you look at tf that we depart every 45 minutes our cat capacity is greater than the frequency trains which would leave in that per time," he says. Many operators prefer d to spend resting time on the ferry, he adc which Kirkup replies that most drivers to spend time at home with their familie
Operators have their own views going over or under the Channel. "Paris: favour the tunnel: anywhere accessible 1 a day's driving time and the tunnel Ii advantage," says Joe Gilbert, direct Lincolnshire-based Geoff International Transport. "But an hour d count for much when you go further ; Within your limit on a ,15-hour though, the saving is substantial." C reckons that prices in the ferry war hal bilised but sniping continues on the a value front.
Upgraded
P&O has recently upgraded its daily sa on Dover-Calais to 28; Le Shuttle ha added 192 departures a month; and Sti about to introduce the Stena Emperor biggest freight carrier on the route—af £8m pound refit.
Observers seem to talk as though a n between Stena and P&O is all but don dusted. Yet P&O says it is not talking body and, fresh from a fall-out with its F partner (now Sea France), neither is There may be benefits to the hauliers consolidation, but traditionally they done best in times of increased compe.
Eugene O'Reilly points out one reasot he thinks ferries might be keen to sta things: "The great fear they have is th; tunnel goes bust. If somebody stepped i picked it up cheap, then there would b competition."
by Steve McQueen
Tags
People
:
Martin Kirkup
,
Tor Line
,
Mike Leutchford
,
Joe Gilbert
,
Eugene O'Reilly
,
Jimmy Quinn
,
Mike Beer
,
Brian Thompson
,
Steve McQueen
,
Paul Woodward
,
Chris Bosman