HEAVY
8th August 1996
Page 26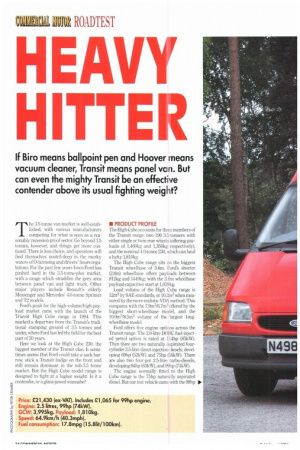 Page 28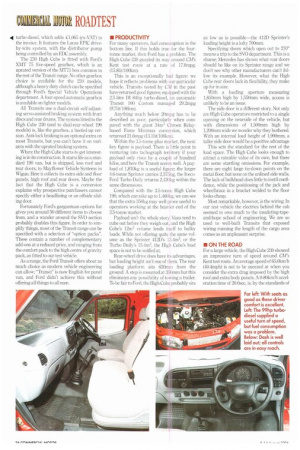 Page 29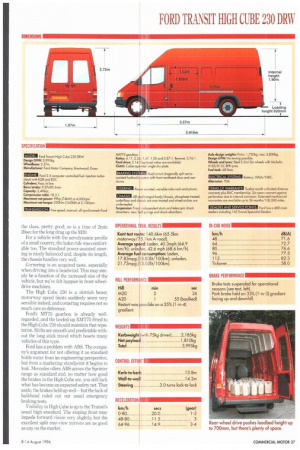 Page 30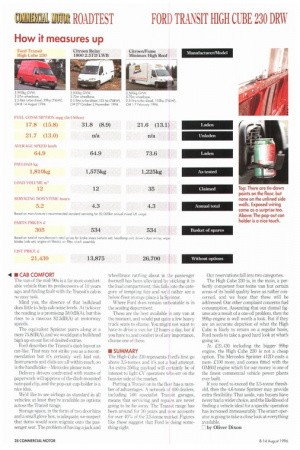 Page 26, 8th August 1996 —
HEAVY
Close
HITTER The 3.5-tonne van market is well-established, with various manufacturers competing for what is seen as a reasonably recession-proof sector. Go beyond 3.5 tonnes, however, and things get more confused. There is less choice, and operators will find themselves nostril-deep in the murky waters of 0-licensing and drivers' hours regulations. For the past few years Iveco Ford has pushed hard in the 3.5-tonne-plus market, with a range which straddles the grey area between panel van and light truck. Other major players include Renault's elderly Messenger and Mercedes' 4.6-tonne Sprinter and T2 models.
Ford's push for the high-volume/high-payload market came with the launch of the Transit High Cube range in 1994. This marked a departure from the Transit's traditional stamping ground of 3.5 tonnes and under, where Ford has led the field for the best part of 30 years.
Here we look at the High Cube 230, the biggest member of the Transit clan. It sometimes seems that Ford could take a sack-barrow, stick a Transit badge on the front and still remain dominant in the sub-3.5 tonne market. But the High Cube model range is designed to fight at a higher weight. Is it a contender, or a glass-jawed wannabe? • PRODUCT PROFILE The High Cube accounts for three members of the Transit range: two 190 3.5-winters with either single or twin rear wheels (offering payloads of 1,460kg and 1,350kg respectively), and the nominal 4.0-tonne 230, which can haul a hefty 1,810kg.
The High Cube range sits on the biggest Transit wheelbase of 3.6m. Ford's shorter (2.8m) wheelbase offers payloads between 812kg and 1449kg, with the 3.6m wheelbase payload capacities start at 1,039kg
Load volume of the High Cube range is 12m3 by SAE standards, or 10.2m3 when measured by the more realistic VDA method. This compares with the 7.9m3/6.7m3 offered by the biggest short-wheelbase model, and the 10.0m3/8.5m3 volume of the largest longwheelbase model.
Ford offers five engine options across the Transit range. The 2.0-litre 1)01-IC fuel-injected petrol option is rated at 114hp (85kW). Then there are two naturally aspirated fourcylinder 2.5-litre direct-injection diesels, developing 69hp (52kW) and 75hp (56kW). There are also two four-pot 2.5-litre turbo-diesels, developing 84hp (63kW), and 99hp (74kW).
The engine normally fitted to the High Cube range is the 75hp naturally aspirated diesel. But our test vehicle came with the 99hp
.4 turbo-diesel, which adds £.1,065 (ex-VAT) to the invoice. It features the Lucas EPIC driveby-wire system, with the distributor pump being controlled by an EDC assembly.
The 230 High Cube is fitted with Ford's XMT 75 five-speed gearbox, which is an uprated version of the M175 box common to the rest of the Transit range. No other gearbox choice is available for the 230 models, although a heavy duty clutch can be specified through Ford's Special Vehicle Operations department. A four-speed automatic gearbox is available on lighter models, All Transits use a dual-circuit self-adjusting servo-assisted braking system with front discs and rear drums. The system fitted to the High Cube 230 (and to dual-rear-wheel 190 models) is, like the gearbox, a beefed-up version. Anti-lock braking is an optional extra on most Transits, but you can't have it on variants with the uprated braking system.
Where the High Cube starts to get interesting is in its construction. It starts life as a standard 190 van, but is shipped, less roof and rear doors, to Mayflower Vehicle Systems in Wigan. Here it collects its extra side and floor panels, high roof and rear doors. Maybe the fact that the High Cube is a conversion explains why prospective purchasers cannot specify either a headlining or an offside sliding door.
Fortunately Ford's gargantuan options list gives you around 50 different items to choose from, and a wander around the SVO section probably doubles this figure. In order to simplify things, most of the Transit range can be specified with a selection of "option packs". These contain a number of complementary add-ons at a reduced price, and ranging from the comfort pack to the high centre of gravity pack, as fitted to our test vehicle.
As a range, the Ford Transit offers about as much choice as modern vehicle engineering can allow; "Transit" is now English for panel van, and Ford didn't achieve this without offering all things to all men. • PRODUCTIVITY For many operators, fuel consumption is the bottom line. If this holds true for the fourtonne market, then Ford has a problem. The High Cube 230 guzzled its way around GMs Kent test route at a rate of 17.8mpg. (15.8lit/100km).
This is an exceptionally bad figure: we hope it reflects problems with our particular vehicle. Transits tested by CM in the past have returned good figures; equipped with the 2.5-litre DI 84hp turbo-diesel, an automatic Transit 100 Custom managed 29.2mpg (9.7fit/100km).
Anything much below 20mpg has to be described as poor, particularly when compared with the giant 34m3 Citroen Relaybased Fame Minimax conversion, which returned 21.6mpg (13.11ft/100km).
Within the 3.5-tonne plus market, the next key figure is payload. There is little point in venturing into tachograph territory if your payload only rises by a couple of hundred kilos, and here the Transit scores well. A payload of 1,810kg is a useful figure; the larger 4.6-tonne Sprinter carries 2,375kg, the lvecoFord Turbo Daily returns 2,130kg within the same dimensions.
Compared with the 3.5-tonne High Cube 190, which can take up to 1,460kg, we can see that the extra 350kg may well prove useful to operators working at the heavier end of the 3.5-tonne market.
Payload isn't the whole story Vans tend to cube out before they weigh out, and the High Cube's 12m3 volume lends itself to bulky loads. While not offering quite the same volume as the Sprinter 412D's 13.4m3, or the Turbo Daily's 15.4m3, the High Cube's load space is not to be sniffed at.
Rear-wheel drive does have its advantages, but loading height isn't one of them. The rear loading platform sits 620mm from the ground. A step is mounted at 35)min but this eliminates ally possibility of towing a trailer. To be fair to Ford, the High Cube probably sits as low as is possible—the 412D Sprinter's loading height is a lofty 700mm.
Specifying doors which open out to 270° means a trip to the SVO department. This is a shame; Mercedes has shown what rear doors should be like on its Sprinter range and we don't see why other manufacturers can't follow its example. However, what the High Cube rear doors lack in flexibility, they make up for in size.
With a loading aperture measuring 1.850mm high by 1,550mm wide, access is unlikely to he an issue.
The side door is a different story. Not only are High Cube operators restricted to a single opening on the nearside of the vehicle, but with dimensions of 1,500mm high by 1200min wide we wonder why they bothered. With an internal load height of 1,900mm, a taller side door would be a positive advantage This sets the standard for the rest of the load space, The High Cube looks enough to attract a rateable value of its own, but there are some startling omissions, For example, there are eight large tie-down points on the metal floor, but none on the unlined side walls. The lack of bulkhead does little to instil confidence, while the positioning of the jack and wheelbrace in a bracket welded to the floor looks cheap.
Most remarkable, however, is the wiring. In our test vehicle the electrics behind the alb seemed to owe much to the insulating-tapeand-hope school of engineering. We are so used to well-built Transits that exposed wiring running the length of the cargo area comes as an unpleasant surprise.
• ON THE ROAD
For a large vehicle, the lfigh Cube 230 showed an impressive turn of speed around CM's Kent test route. An average speed of 65.0km/h (40.4mph) is not to be sneezed at when you consider the extra drag imposed by the high roof and extra body panels. A 0-80km/h acceleration time of 20.0sec, is, by the standards of
the class, pretty good; so is a time of 2min 26sec for the long drag up the M20.
For a vehicle with the aerodynamic profile of a small country, the laden ride was comfortable too. The standard power-assisted steering is nicely balanced and, despite its length, the chassis handles very well.
Cornering is an acquired taste, especially when driving into a headwind. This may simply be a function of the increased size of the vehicle, but we've felt happier in front-wheeldrive machines,
The High Cube 230 is a skittish beast; motorway speed limits suddenly seem very sensible indeed, and cornering requires not so much care as deference.
Ford's MT75 gearbox is already wellregarded, and the beefed-up XMT75 fitted to the High Cube 230 should maintain that reputation. Shifts are smooth and predictable without the long stick travel which besets many vehicles of this type.
Ford has a problem with ABS. The company's argument for not offering it as standard holds water from an engineering perspective. but from a marketing standpoint it begins to leak. Mercedes offers ABS across the Sprinter range as standard and, no matter how good the brakes in the High Cube are, you still lack what has become an expected safety net. That aside, the brakes held up well—but the lack of bulkhead ruled out our usual emergency braking tests.
Visibility in High Cube is up to the Transit's usual high standard. The sloping front may impede forward vision very slightly, but the excellent split rear-view mirrors are as good as any on the market.
The van of the mid-'90s is a far more comfortable vehicle than its predecessors of 10 years ago, and finding fault with the Transit's cab is no easy task.
Mind you, the absence of that bulkhead does little to help cab noise levels. At tickover the reading is a promising 58.0dB(A), but this rises to a raucous 82.3dB(A) at motorway speeds.
The equivalent Sprinter purrs along at a mere 75.8dB(A), and we would put a bulkhead high up on our list of desired extras.
Ford describes the Transit's dash layout as car-like. That may not strike you as a recommendation but it's certainly well laid out. Instruments and dials are all within reach, so is the handbrake—Mercedes please note.
Delivery drivers confronted with reams of paperwork will approve of the dash-mounted note-pad clip, and the pop-out cup-holder is a nice idea.
We'd like to see airbags as standard in all vehicles; at least they're available as options across the Transit range.
Storage space, in the form of two door bins and a small glove box, is adequate; we suspect that items would soon migrate onto the passenger seat. The problem of having a jack and
wheelbrace rattling about in the passenger foorwell has been alleviated by sticking it in the load compartment; this falls into the category of tempting fate and we'd rather see a below-floor storage place a la Sprinter.
Where Ford does remain unbeatable is in the seating department.
These are the best available in any van at the moment, and would put quite a few heavy truck seats to shame. You might not want to have to drive a van for 12 hours a day, but if you have to, and comfort is of any importance, choose one of these, • SUMMARY The High Cube 230 represents Ford's first go above 3.5-tonnes and it's not a bad attempt. An extra 350kg payload will certainly be of interest to light CV operators who err on the heavier side of the market.
Putting a Transit on to the fleet has a number of advantages. A network of 400 dealers, including 160 specialist Transit garages, means that servicing and repairs are never going to he far away. The Transit range has been around for 30 years and now accounts for over 40% of the 3.5-tonne market. Figures like these suggest that Ford is doing something right.
Our reservations fall into two categories.
The High Cube 230 is, in the main, a perfectly competent four-tonne van but certain areas of its build quality leave us rather concerned, and we hope that these will be addressed. Our other complaint concerns fuel consumption. Assuming that our dismal figures are a result of a one-off problem, then the 99hp engine is well worth a look. But if they are an accurate depiction of what the High Cube is likely to return on a regular basis, Ford needs to take a good hard look at what's going on.
At £21,430 including the bigger 99hp engine, the High Cube 230 is not a cheap option. The Mercedes Sprinter 412D costs a mere £100 more, and comes fitted with the 0M602 engine which for our money is one of the finest commercial vehicle power plants ever built.
If you need to exceed the 15-tonne threshold, then the 4.6-tonne Sprinter may provide extra flexibility That aside, van buyers have never had a wider choice, and the likelihood of finding a vehicle ideal for a specific operation has increased immeasurably. The smart operator is going to take a close look at everything available.
E.] by Oliver Dixon