bird's eye view by the hawk 0 cania and Radio
8th August 1996
Page 25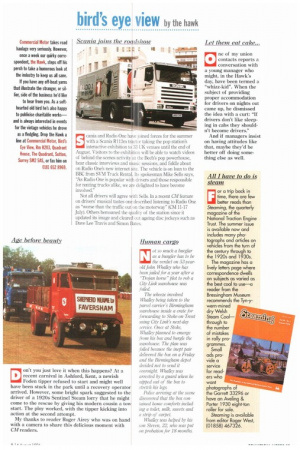 Page 25, 8th August 1996 —
bird's eye view by the hawk 0 cania and Radio
Close
One have joined forces for the summer with a Scania R113m tract! T taking the pop station's interactive exhibition to 33 1:.K venues until the end of August. Visitors to the exhibition will be able to watch videos of behind-the-scenes activity at the Beeb's pop powerhouse, hear classic interviews and Music sessions, and fiddle about on Radio One's new internet site. The vehicle is on loan to the BBC from SVM Truck Rental. ltt-, spokesman Mike Sells says, "As Radio One is popular with drivers and those responsible for renting trucks alike, we are delighted to have become involved."
Not all drivers will agree with Sells. In a recent CM feature on drivers' musical tastes one described listening to Radio One as "worse than the traffic out on the motorway" (CM 11-17 July). Others bemoaned the quality of the station since it updated its image and cleared out ageing disc jockeys such as Dave Lee Travis and Simon Bates.
on't you just love it when this happens? At a recent carnival in Ashford, Kent, a newish Foden tipper refused to start and might well have been stuck in the park until a recovery operator arrived. However, some bright spark suggested to the driver of a 1920s Sentinel Steam lorry that he might come to the rescue by giving his modern cousin a tow start. The ploy worked, with the tipper kicking into action at the second attempt.
My thanks to reader Roger Airey who was on hand with a camera to share this delicious moment with CM readers. [E01 so ,nuch a burglar
as a bungler has to be the verdict on 53-yearold John Whalley who has been jailed for a year after a "Trojan horse" plot to rob a City Link warehouse was foiled The wheeze involved Whalley being taken to the parcel carrier's Birmingham warehouse inside a crate for forwarding to Stoke-on-Trent using City Link's next-day service. Once at Stoke, 41/7ialley planned to emerge from his has and burgle the warehouse. The plan was foiled because the inept pair delivered the box on a Friday and the Birmingham depot decided not to send it overnight. Whalley was arrested by a guard when he nipped out of the box to stretch his legs.
Police arriving at the scene discovered that the box contained home comforts including a toilet, milk, sweets and a strip of carpet Whalley was helped by his son Steven, 22, who was put on probation for 18 months ne of my union contacts reports a conversation with a young manager who might, in the Hawk's day, have been termed a "whizz-kid". When the subject of providing proper accommodation for drivers on nights out came up, he dismissed the idea with a curt: "If drivers don't like sleeping in cabs they shouldn't become drivers."
And if managers insist on having attitudes like that, maybe they'd be better off doing something else as well.
All I have to do is steam
Dor a trip back in time, there are few better reads than Steaming, the quarterly magazine of the National Traction Engine Trust. The summer issue is available now and includes many photographs and articles on vehicles from the turn of the century through to the 1920s and 1930s.
The magazine has a lively letters page where correspondence dwells on subjects as varied as the best coal to use—a reader From the Bressingham Museum recommends the Tyn-ywern-mined dry Welsh Steam Coal— through to the number of mistakes in rally programmes. Small ads provide a service for readers who want photographs of the Garrett 33296 or have an Aveling & Porter 1930 eight-ton roller for sale.
Steaming is available From editor Roger West, (01858) 467326.