Port improves
8th August 1996
Page 24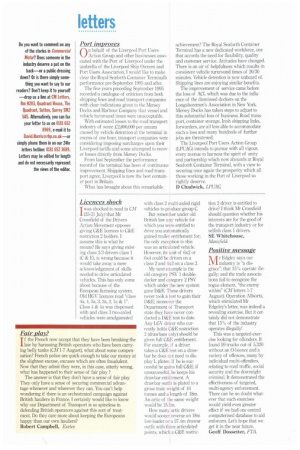 Page 24, 8th August 1996 —
Port improves
Close
(An behalf of the Liverpool Port Users kJ Action Group and other businesses associated with the Port of Liverpool under the umbrella of the Liverpool Ship Owners and Port Users Association, I would like to make clear the Royal Seaforth Container Terminal's performance pre.September 1995 and after.
The five years preceding September 1995 recorded a catalogue of criticism from both shipping lines and road transport companies with clear indications given to the Mersey Docks and Harbour Company that vessel and vehicle turnround times were unacceptable.
With estimated losses to the road transport industry of some ,C2,800,000 per annum caused by vehicle detention at the terminal in excess of one hour, transport companies were considering imposing surcharges upon their Liverpool tariffs and some attempted to recover losses directly from Mersey Docks.
From last September the performance record of the terminal has been of continuous improvement. Shipping lines and road transport agree. Liverpool is now the best container port in Britain.
What has brought about this remarkable achievement? The Royal Seaforth Container Terminal has a new dedicated workforce, one that accords the need for flexibility, quality and customer service. Attitudes have changed. There is an air of helpfulness which results in consistent vehicle turnround times of 20/30 minutes. Vehicle detention is now unheard of, Shipping lines are enjoying similar benefits. The improvement of service came before the loss of ACT, which was due to the influence of the dismissed dockers on the Longshoremen's Association in New York. Mersey Docks has taken steps to adjust to this substantial loss of business. Road transport, container storage, Irish shipping links, forwarders, are all less able to accommodate such a loss and many hundreds of further jobs are threatened. The Liverpool Port Users Action Group (1.1-VAG) intends to pursue with all vigour, every avenue to harness the spirit of unity and partnership which now abounds at Royal Seaforth Container Terminal, with a view to securing once again the prosperity which all those working in the Port of Liverpool so rightly deserve.
D Chadwick, LPLIAG.