Licences shock
8th August 1996
Page 24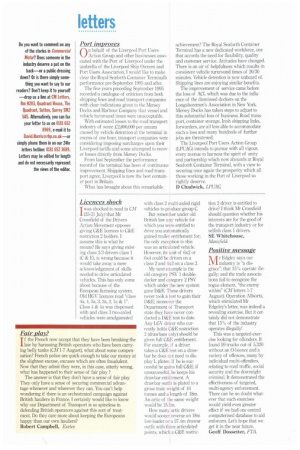 Page 24, 8th August 1996 —
Licences shock
Close
T was shocked to read in CM 1(25-31 July) that Mr Crossfield of the Drivers Action Movement opposes giving C&E licences to C&E restriction 2 holders. 1 assume this is what he means? He says giving existing class 2/3 drivers class 1 (C & El. is wrong because it would take away a mere acknowledgement of skills needed to drive articulated vehicles. This has only come about because of the European licensing system. Old HGV licences read "class 4a, 4, 3a, 3, 2a, 2, 1a &
Class 4 & 4a was dispensed with and class 3 two.axlecl vehicles were amalgamated with class 2 multi-axled rigid vehicles to produce group C.
But remember under old British law any vehicle for which you were entitled to drive you automatically gained trailer entitlement for; the only exception to this was an articulated vehicle. However, its unit of 6x2 or 6x4 could be driven on a class 2 and 4x2 on a class 3.
My next example is the old category PSV I doubledecker and category 2 PM' which under the new system gave D&E. These drivers never took a test to gain their D&E; moreover the Department of Transport state they have never conducted a D&E test to date. Any LGV driver who currently holds C&E restriction 2 (drawbars only) should be given full C&F, entitlement. For example, if a driver takes a C&E test on a drawbar he does not need to display L plates, If he is successful he gains full C&E; if unsuccessful, he keeps his drawbar entitlement. A drawbar outfit is plated to a gross train weight of 44 tonnes and a length of 18m. An attic of the same weight would be 15.5m.
How many artic drivers would sooner reverse an 18m low-loader or a 27.4m drawar outfit with three articulated points, which a C&E restric
tion 2 driver is entitled to drive? I think Mr Crossfield should question whether his interests are for the good of the transport industry or for selfish class 1 drivers.
SE Whitehouse, Mansfield.
Positive message
Mr Edgley says our industry is "a disgrace"; that 15% operate illegally; and the trade associations fail to recognise the rogue element, "the enemy within" (CM letters 1-7 August), Operation Allsorts, which stimulated Mr Edgeley's letter, was indeed a revealing exercise. But it certainly did not demonstrate that 15% of the industry operates illegally?
This was a targeted exercise looking for offenders. It found 59 trucks out of 5,320 without an 0-licence and a variety of offences, many by individual multi-offenders, relating to road traffic, social security and the downright criminal. It demonstrated the effectiveness of targeted, multi-agency enforcement. There can be no doubt whatever that such exercises would yield even greater effect if we had one central computerised database to aid enforcers. Let's hope that we get it in the near future. Geoff Dossetter,