Severe warning ( truck maintenan
8th August 1996
Page 21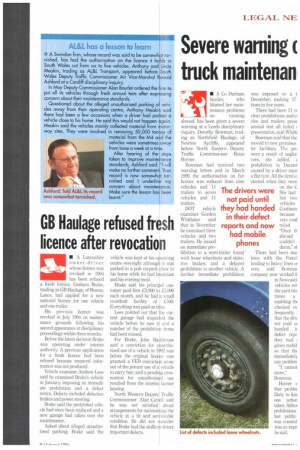 Page 21, 8th August 1996 —
Severe warning ( truck maintenan
Close
lot4 6r. I • A Co Durham haulier, who blamed her maintenance problems on running abroad, has been given a severe warning at a Leeds disciplinary inquiry Dorothy Bowman, trading as Northfield Haulage, of Newton Aycliffe, appeared before North Eastern Deputy Traffic Commissioner Brian Horner.
Bowman had received two warning letters and in March 1995 the authorisation on her licence was reduced from nine vehicles and 11 trailers to seven vehicles and 11 trailers.
DOT vehicle examiner Gordon Whittaker said that in November he examined three vehicles and two trailers. He issued an immediate prohibition to a semi-trailer found with loose wheelnuts and defective brakes; and a delayed prohibition to another vehicle. A further immediate prohibition was unposed on a t December, making 17 tions in five years.
There had been 11 r€ clear prohibitions; and ei des and trailers prese annual test all failed < presentation, said Whitt
Bowman said that the moved to new premises ter facilities. The pm were a result of neglec vers, she added, a prohibition in Deceml caused by a driver runr a fiat tyre. All the firm's I started when they were on the C She had but two vehicles Continen: because vers coul relied "Once tti abroad couldn't damn," st There had been ma: lems with the Frencl leading to heavy tines oi vers, said Bowmat company now worked fi in Newcastli vehicles ret the yard tw< times a enabling till checked ov frequently. : that the drh not paid ui handed it defect repc they had : given mobil, so that tht immediately any problem
"I cannot more," Bowman.
HOMO' s
ther pmblei likely to lead ous action taken. Altho prohibitions last public was unsatisf was an impr he said.