GB Haulage refused fresh licence after revocation
8th August 1996
Page 21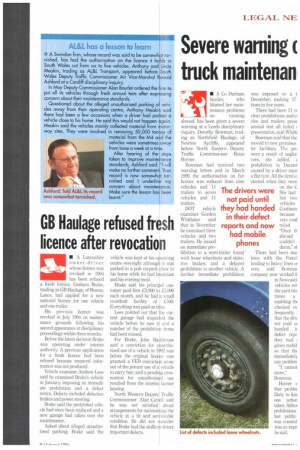 Page 21, 8th August 1996 —
GB Haulage refused fresh licence after revocation
Close
alp owner-driver
whose licence was has been refused a fresh licence. Graham Brake, trading as GB Haulage, of Hoscar, Lanes, had applied for a new national licence for one vehicle and one trailer.
His previous licence was revoked in July 1994 on maintenance grounds following his second appearance at disciplinary proceedings within three months.
Before the latest decision Brake was operating under interim authority A previous application for a fresh licence had been refused because required information was not produced.
Vehicle examiner Andrew Lees said he examined Brake's vehicle in January imposing an immediate prohibition and a defect notice. Defects included defective brakes and power steering.
Brake said the prohibited vehicle had since been replaced and a new garage had taken over the maintenance.
Asked about alleged unauthorised parking, Brake said the
vehicle was kept at his operating centre overnight although it was parked in a pub carpark close to his home while he had breakfast and his evening meal.
Brake said his principal customer paid him £2,000 td £3.000 each month, and he had a small overdraft facility of £500. Everything was paid on time.
Lees pointed out that the current garage had inspected the vehicle before he saw it and a number of the prohibition items had been missed.
For Brake, John Backhi )use said a conviction for unauthorised use of a vehicle in 1992 was before the original licence was granted; a VED conviction arose out of the private use of a vehicle to carry hay; and a pending prosecution for unauthorised use resulted from the interim licence lapsing.
North Western Deputy Traffic Commissioner Alan Cattell said he was not satisfied about arrangements for maintaining the vehicle in a fit and serticeable condition. He did not consider that Brake had the skills to detect important defects.