Repute kept over waste fine
8th August 1996
Page 20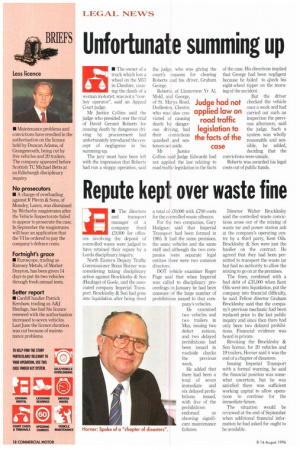 Page 20, 8th August 1996 —
Repute kept over waste fine
Close
• The directors and transport manager of a company fined £9,000 for offences involving the deposit of controlled waste were judged to have retained their repute by a Leeds disciplinary inquiry.
North Eastern Deputy Traffic Commissioner Brian Horner was considering taking disciplinary action against Brocklesby & Son (Haulage) of Goole, and the associated company Imperial Transport. Brocklesby & Son had gone into liquidation after being fined a total of £9,000 with £700 costs for the controlled waste offences.
For the two companies, Gary Hodgson said that Imperial Transport had been formed in 1985. It had the same premises, the same vehicles and the same staff and although the two companies were separate legal entities there were two common directors.
DOT vehicle examiner Roger Page said that when Imperial was called to disciplinary proceedings in January he had been unaware of the large number of prohibitions issued to that company's vehicles.
He examined two vehicles and two trailers in May, issuing two defect notices, and two delayed prohibitions had been issued in roadside checks the previous week.
He added that there had been a total of seven immediate and six delayed prohibitions issued, with five of the prohibitions endorsed as showing significant maintenance failures.
Director Walter Brocklesby said the controlled waste convictions arose out of the mixing of waste tar and power station ash at the company's operating centre by a third party, Kent Oils. Brocklesby & Son were just the haulier on the contract. He agreed that they had been permitted to transport the waste tar but had no authority to allow the mixing to go on at the premises.
The fines, combined with a bad debt of £35,000 when Kent Oils went into liquidation, put the company into financial difficulty, he said. Fellow director Graham Brocklesby said that the company's previous mechanic had been replaced prior to the last public inquiry and since then there had only been two delayed prohibitions. Financial evidence was heard in private.
Revoking the Brocklesby & Son licence, for 20 vehicles and 19 trailers, Horner said it was the end of a chapter of disasters.
Issuing Imperial Transport with a formal warning, he said the financial position was somewhat uncertain, but he was satisfied there was sufficient working capital to allow operations to continue for the immediate future.
The situation would be reviewed at the end of September when additional financial information he had asked for ought to be available.