MAN evaluates ammonia cat
8th August 1996
Page 18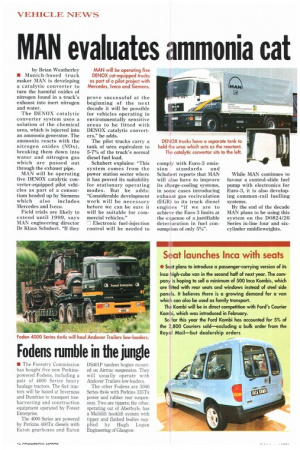 Page 18, 8th August 1996 —
MAN evaluates ammonia cat
Close
Keywords :
Air Pollution
,
Nitrogen Metabolism
,
Catalysis
,
Chemical Engineering
,
Catalytic Converter
,
Exhaust Gas
,
Urea
,
Diesel Engine
,
Nitrogen Oxide
,
Ammonia
,
Exhaust System
,
Emission Standard
by Brian Weatherley • Munich-based truck maker MAN is developing a catalytic converter to turn the harmful oxides of nitrogen found in a truck's exhaust into inert nitrogen and water.
The DENOX catalytic converter system uses a solution of the chemical urea, which is injected into an ammonia generator. The ammonia reacts with the nitrogen oxides (N0x), breaking them down into water and nitrogen gas which are passed out through the exhaust pipe.
MAN will be operating five DENOX catalytic converter-equipped pilot vehicles as part of a consortium headed up by Siemens which also includes Mercedes and Iveco.
Field trials are likely to extend until 1999, says MAN engineering director Dr Klaus Schubert. "If they prove successful at the beginning of the next decade it will be possible for vehicles operating in environmentally sensitive areas to be fitted with DENOX catalytic converters," he adds.
The pilot trucks carry a tank of urea equivalent to 5-7% of the truck's normal diesel fuel load.
Schubert explains: "This system comes from the power station sector where it has proved its suitability for stationary operating modes. But he adds: "Considerable development work will be necessary before we can be sure it will be suitable for commercial vehicles."
7 Electronic fuel-injection control will be needed to comply with Euro-3 emission standards and Schubert reports that MAN will also have to improve its charge-cooling systems, in some cases introducing exhaust gas recirculation (EGR) to its truck diesel engines "if we are to achieve the Euro 3 limits at the expense of a justifiable deterioration in fuel consumption of only 5%". While MAN continues to favour a control-slide fuel pump with electronics for Euro-3, it is also developing common-rail fuelling systems.
By the end of the decade MAN plans to be using this system on the D0824/26 Series in-line four and sixcylinder middleweights.