Fast forward
8th August 1996
Page 16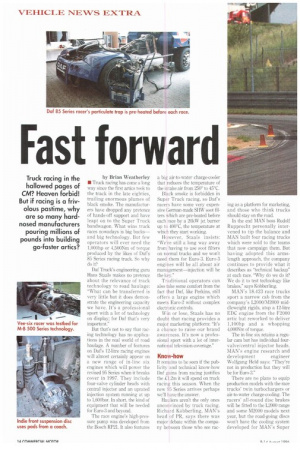 Page 17
Page 16, 8th August 1996 —
Fast forward
Close
by Brian Weatherley
• Truck racing has come a long way since the first artics took to the track in the late eighties, trailing enormous plumes of black smoke. The manufacturers have dropped any pretence of hands-off support and have leapt on to the Super Truck bandwagon. What wins truck races nowadays is big bucks— and big technology. But few operators will ever need the 1,000hp or 4,500Nin of torque produced by the likes of Des 85 Series racing truck. So why do it?
Daf Truck's engineering guru Hans StaaIs makes no pretence about the relevance of track technology to road haulage: "What can be transferred is very little hut it does demonstrate the engineering capacity we have. It's a professional sport with a lot of technology on display; for Daf that's very important."
But that's not to say that racing technology has no applications in the real world of road haulage. A number of features on Daf s 12-litre racing engines will almost certainly appear on a new range of in-line six engines which will power the revised 95 Series when it breaks cover in 1997. They include four-valve cylinder heads with central injector and an uprated injection system running at up to 1,600bar. In short, the kind of equipment that will be needed for Euro-3 and beyond.
The race engine's high-pressure pump was developed from the Bosch RP21. It also features a big air-to-water charge-cooler that reduces the temperature of the intake air from 250° to 45°C.
Black smoke is forbidden in Super Truck racing, so Daf's racers have some very expensive German-made SIM' soot filters which are pre-heated before each race by a 20kW jet burner up to 400°C, the temperature at which they start working.
However. Staals insists: "We're still a long way away from having to use soot filters on normal trucks and we won't need them for Euro-3. Euro-3 engines will be all about air management—injection will be the key."
Traditional operators can also take some comfort from the fact that Daf, like Perkins, still offers a large engine which meets Euro-2 without complex electronic controls: Win or lose, Staals has no doubt that racing provides a major marketing platform: "It's a chance to raise our brand awareness. It's now a professional sport with a lot of international television coverage."
Know-how
It remains to be seen if the publicity and technical know-how Daf gains from racing justifies the ,C1.2m it will spend on truck racing this season. When the new 95 Series arrives perhaps we'll have the answer.
Hauliers aren't the only ones unconvinced by truck racing. Richard KUbberling, head of PR, says there was major debate within the company between those who see rac ing as a platform for marketing, and those who think trucks should stay on the road.
In the end MAN boss Rudolf Rupprecht personally intervened to tip the balance and MAN built four racing trucks which were sold to the teams that now campaign them. But having adopted this armslength approach, the company continues to provide what it describes as "technical backup" at each race. "Why do we do it? We do it to test technology like brakes," says Kobberling.
MAN's 18.423 race trucks sport a narrow cab from the company's L2000/M2000 middleweight rigids, atop a 12-litre EDC engine from the F2000 artic but reworked to deliver 1,100hp and a whopping 4,000Nm of torque.
The in-line six retains a regular cam but has individual fourvalve/central injector heads. MAN's engine research and development engineer Wolfgang Held says: "They're not in production but they will be for Euro-3."
There are no plans to equip production models with the race trucks' twin turbochargers or air-to-water charge-cooling. The racers' all-round disc brakes will be fitted to the L2000 range and some M2000 models next year, but the road-going discs won't have the cooling system developed for MAN's Super Trucks. MAN racing support specialist Stefan Holzmann explains that the discs are kept "cool" (below 500°C) during a race by spraying up to 160Iit of water directly into the ventilation slots. Not exactly what you'd want on a fleet tractor!
Talking of disc brakes, the method of actuation ranges from MAN'S full-air set-up via Mercedes' air-over-hydraulic to Daf s full-hydraulic system.
Like MAN, Mercedes-Benz has built four racing trucks; in this case based on 1834s. Also like MAN, Mercedes supplied its racers to independent teams, but it has retained ownership. It also provides "technical assistance" to the likes of David Atkins who runs the British Atkins/IRU Mobil Team and. when he's not racing, P Atkins Fuel Injection—a Bosch service agency in Mansfield. "When Mercedes asked me 'Can you make a truck go faster?' it was completely against what I'd done before," says Atkins. "Previously I was always looking for more power but without any more fuel consumption."
Mercedes insisted that the race truck should "look like a marketable unit". That ruled out a special cab or frame: the 1838S racing truck chassis uses conventional road haulage technology, right down to its leaf springs.
If the racing chassis uses road technology. Mercedes hasn't been slow in mo' ing engine technology in the other direction. The racer's 'highly modified 1,000hp-plus vee-six 0M44 I LA engine shares many features with Mercedetf latest Euro-2 500 Series engits (CM 11-17 July), including a 12-:itre block, four-valve heads, EDC and a fuel injection System based around the PLD "unit pump".
Technology transfer
Mercedes was able to c% Aluate 500 Series components in its racer long before offering it to hauliers. If that isn't technology transfer then what is? Atkins admits as much when he says:"I feel I'm having some influence on technical advancements. The work I do goes through to Mercedes' R&D department."
Some components are likely to remain the exclusive preserve of the racers—such as the 1.5kg carbon fibre air intake pipes— but there's no doubt that truck racing is a useful method of durability testing.
This point is not lost on Alan Lewis, industrial engine business unit manager for Cater-pillar in Europe: "It's accelerated development," he says. "Every race is worth nine months in terms of wear and tear." An inline six-pot C12 Cat engine powers the bonneted ZIL tractor raced by South London used truck specialist Chris Hodge, and it has certainly gone the distance in terms of reliability.
Despite being run at up to 1,280hp—way beyond its nominal 410hp rating—it has not suffered a single breakdown or component failure. Apart from a modified turbocharger, cam, injectors and charge-cooler radiator which is constantly sprayed with water, the racing C12 is as it came from the factory The 12-litre Cat engii due to reach UK op before the second half year—probably in a although after Wester buyout of ERF tw( builders in Sandbach ( fitting the famous yello But from October Fodel offering the C10, a 10which uses the same I the C12, along with Hydraulic Unit Elt Injector (HUED system tronic control module.
Every beat of the ra( engine performance is • on a data logger. Ever: this information is tra electronically to Cate: base at Peoria, Illinois ther analysis. After ez the engine is stripped for wear: details of its condition are also sent t•
It says something al nature of truck racirn company like Caterpilla release an engine to an dent outfit like Hodge' Racing Developments b been officially launched European truck Presumably Caterpill that if an engine's tougt for racing it's tough en( haulage. If potential cu agree, then truck racir prove to be a good inv in terms of marketing, as hi-tech spin-offs.