Demounts for 35-tonners Lease-back semis
8th August 1996
Page 14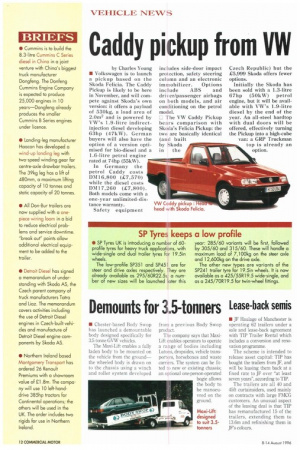 Page 14, 8th August 1996 —
Demounts for 35-tonners Lease-back semis
Close
• Chester-based Body Swop has launched a demountable body designed specifically for 3.5-tonne GM vehicles.
The Maxi-Lift enables a fully laden body to be mounted on the vehicle from the ground— the wheeled body is drawn on to the chassis using a winch and roller system developed
in)r, a prevlous Body Swop product.
The company says that MaxiLift enables operators to operate a range of bodies including Lutons, dropsides, vehicle transporters, horseboxes and waste carriers. The system can be fitted to new or existing chassis; an optional one-person-operated bogie allows the body to be manoeuvred on the ground. • JF Haulage of Manchester is operating 62 trailers under a sale and lease-back agreement with TIP Trailer Rental which includes a conversion and renovation programme.
The scheme is intended to release asset capital: TIP has bought the trailers from JF, and will be leasing them back at a fixed rate to JF over "at least seven years", according to TIP.
The trailers are all 40 and 45ft curtainsiders, used mainly on contracts with large FIVICG customers. An unusual aspect of the leasing deal is that TIP has remanufactured 15 of the trailers, extending them to 13.6m and refinishing them in JF's colours.