BRIEFS
8th August 1996
Page 14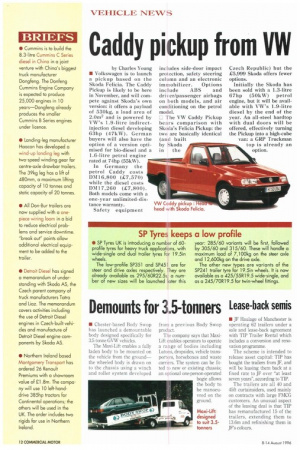 Page 14, 8th August 1996 —
BRIEFS
Close
• Cummins is to build the 8.3-litre Cummins C Series diesel in China in a joint venture with China's biggest truck manufacturer Dongfeng. The Donfeng Cummins Engine Company is expected to produce 25,000 engines in 10 years—Dongfeng already produces the smaller Cummins B Series engines under licence.
• Landing-leg manufacturer Haacon has developed a wind-up landing leg with two-speed winding gear for centre-axle drawbar trailers. The 39kg leg has a lift of 480mm, a maximum lifting capacity of 10 tonnes and static capacity of 20 tonnes.
• All Don-Bur trailers are now supplied with a onepiece wiring loom in a bid to reduce electrical problems and service downtime. "break out" points allow additional electrical equipment to be added to the trailer.
• Detroit Diesel has signed a memorandum of understanding with Skoda AS, the Czech parent company of truck manufacturers Tatra and Liaz. The memorandum covers activities including the use of Detroit Diesel engines in Czech-built vehicles and manufacture of Detroit Diesel engine components by Skoda AS.
• Northern Ireland based Montgomery Transport has ordered 26 Renault Premiums with a showroom value of £1.8m. The company will use 10 left-handdrive 385hp tractors for Continental operations; the others will be used in the UK. The order includes Iwo rigids for use in Northern Ireland.