Force limits it heavy escorts
8th August 1996
Page 13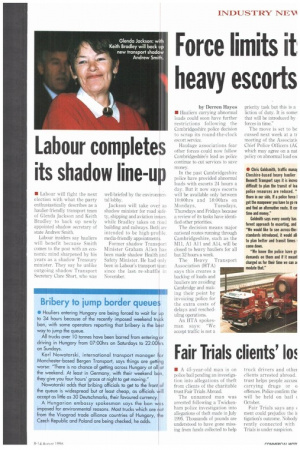 Page 13, 8th August 1996 —
Force limits it heavy escorts
Close
by Derren Hayes MI Hauliers carrying abnormal loads could soon have further restrictions following the Cambridgeshire police decision to scrap its round-the-clock escort service.
Haulage associations fear other forces could now follow Cambridgeshire's lead as police continue to cut services to save money.
In the past Cambridgeshire police have provided abnormal loads with escorts 24 hours a day. But it now says escorts will be available only between 10:00hrs and 18:00hrs on Mondays, Tuesdays, Thursdays and Fridays because a review of its tasks have identified other priorities.
The decision means major national routes running through Cambridgeshire, such as the M11, Al All and A14, will be closed to heavy hauliers for all hut 32 hours a week.
The Heavy Transport Association (HTA) says this creates a backlog of loads and hauliers are avoiding Cambridge and making their point by invoicing police for the extra costs of delays and rescheduling operations.
An IITA spokesman says: We accept traffic is not a priority task but this is a fiction of duty. It is some' that will be introduced by forces in time."
The move is set to be cussed next week at a tr meeting of the Associatit Chief Police Officers (AC which may agree on a nat policy on abnormal load eat