Channel fees 'set to rise'
8th August 1996
Page 12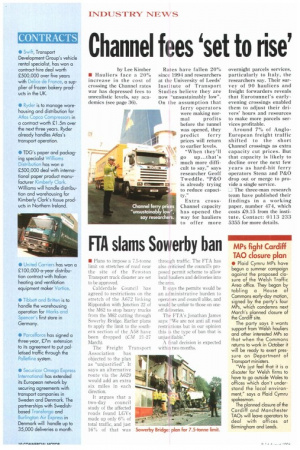 Page 12, 8th August 1996 —
Channel fees 'set to rise'
Close
by Lee Kimber • Hauliers face a 20% increase in the cost of crossing the Channel rates war has depressed fees to unrealistic levels, say academics (see page 36). Rates have fallen 20% since 1994 and researchers at the University of Leeds' Institute of Transport Studies believe they are now "unsustainably low". On the assumption that ferry operators were making nor mal profits before the tunnel was opened, they predict ferry prices will return to earlier levels.
"When they'll go up...that's much more difficult to say," says researcher Geoff Tiveddle. "P&O is already trying to reduce capacity."
Extra crossChannel capacity has opened the way for hauliers to offer more overnight parcels services, particularly to Italy, the researchers say. Their survey of 90 hauliers and freight forwarders reveals that Eurotunnel's earlyevening crossings enabled them to adjust their drivers' hours and resources to make more parcels services profitable.
Around 7% of AngloEuropean freight traffic shifted to the short Channel crossings as extra capacity cut prices. But that capacity is likely to decline over the next few years as hard-hit ferry operators Stena and P&O drop out or merge to provide a single service.
_1 The three-man research team have published their findings in a working paper, number 474, which costs Z9.15 from the institute. Contact: 0113 233 5355 for more details.