Sliproad closui fans bridge fei
8th August 1996
Page 11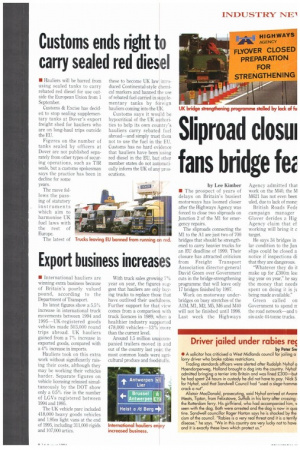 Page 11, 8th August 1996 —
Sliproad closui fans bridge fei
Close
by Lee Kimber • The prospect of years of delays on Britain's busiest motorways has loomed closer after the Highways Agency was forced to close two sliproads on Junction 2 of the M1 for emergency repairs.
The sliproads connecting the M1 to the Al are just two of 700 bridges that should be strengthened to carry heavier trucks for an EU deadline of 1999. Their closure has attracted criticism from Freight Transport Association director-general David Green over Government cuts in the bridge-strengthening programme that will leave only 17 bridges finished by 1997.
Work on motorway under. bridges on busy stretches of the Ml, M2, M5, M6 and M40 will not be finished until 1998. Last week the Highways Agency admitted that work on the M40, the M M621 has not even been uled, due to lack of mone: British Roads Fede campaign manager Glover derides a Rig Agency claim that ef working will bring it c target.
He says 34 bridges in lar condition to the Jun slips could be closed a notice if inspections di that they are dangerous.
"Whatever they do it make up for £300m les ing year on year," he say the money that needs spent on doing it is jt being made available."
Green called on Government to spend ir the road network—and t six-axle 44-tonne trucks.