Customs ends right to carry sealed red diesel
8th August 1996
Page 11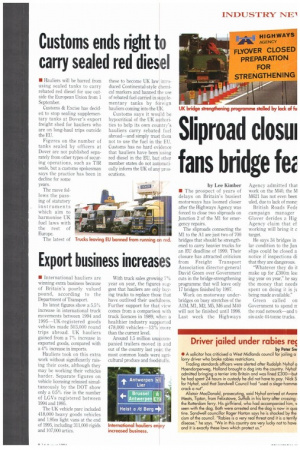 Page 11, 8th August 1996 —
Customs ends right to carry sealed red diesel
Close
• Hauliers will be barred from using sealed tanks to carry rebated red diesel for use outside the European Union from 1 September.
Customs & Excise has decided to stop sealing supplemen tary tanks at Dover's export freight shed for hauliers who are on long-haul trips outside the EU.
Figures on the number of tanks sealed by officers at Dover are not published sepa rately from other types of securing operations, such as TIR The move follows the pass ing of statutory instruments which aim to harmonise UK fuel laws with the rest of Europe.
The latest of these to become UK law introduced Continental-style themical markers and banned the use of rebated fuel carried in stupplementary tanks by foreign hauliers coming into the LIK.
Customs says it would be hypocritical of the UK with( rities to help its own country's hauliers carry rebated fuel abroad—and simply trust them not to use the fuel in the EU. Customs has no hard evidence that hauliers have been using red diesel in the EU, but other member states do not automatically inform the UK of any prosecutions.