Drugs understanding reached between IRU and Customs
8th August 1996
Page 10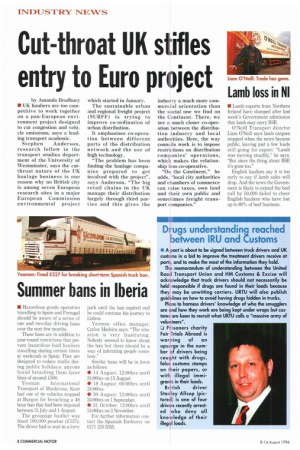 Page 10, 8th August 1996 —
Drugs understanding reached between IRU and Customs
Close
• A pact is about to be signed between truck drivers and UK custerns in a bid to improve the treatment drivers receive at ports, and to make the most of the information they hold.
The memorandum of understanding between the United Road Transport Union and HM Customs & Excise will acknowledge that truck drivers should not necessarily be held responsible if drugs are found in their loads because they may be unwitting carriers. URTU will also publish guidelines on how to avoid having drugs hidden in trucks.
Plans to harness drivers' knowledge of who the smugglers are and how they work are being kept under wraps but customs are keen to recruit what URTU calls a "massive army of volunteers".
Ul Prisoners charity Fair Trials Abroad is warning of an upsurge in the number of drivers being caught with drugs, false customs stamps on their papers, or with illegal immigrants in their loads.
British driver Stanley AI!sop (pictured) is one of four drivers recently arrested who deny all knowledge of their illegal loads.