Cut-throat UK stifles
8th August 1996
Page 10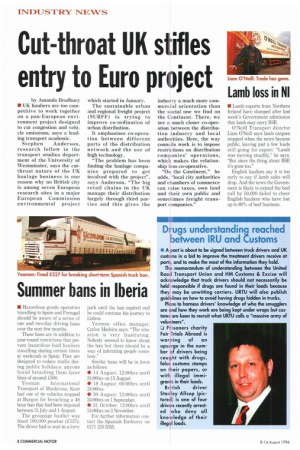 Page 10, 8th August 1996 —
Cut-throat UK stifles
Close
entry to Euro project Liam O'Neill: Trade has gone.
Lamb loss in NI
by Amanda Bradbury • UK hauliers are too competitive to work together on a pan-European environment project designed to cut congestion and vehicle emissions, says a leading transport academic.
Stephen Anderson, research fellow in the transport studies department of the University of Westminster, says the cutthroat nature of the UK haulage business is one reason why no British city is among seven European research sites in a major European Commission environmental project which started in January.
The sustainable urban and regional freight project (SURFF) is trying to improve co-ordination of urban distribution.
It emphasises co-operation between different parts of the distribution network and the use of high technology.
"The problem has been finding the haulage companies prepared to get involved with the project", says Anderson. "The big retail chains in the UK manage their distribution largely through third parties and this gives the industry a much more commercial orientation than the social one we find on the Continent. There, we see a much closer co-operation between the distribution industry and local authorities. Here, the way councils work is to impose restrictions on distribution companies' operations, which makes the relationship less co-operative.
"On the Continent," he adds, "local city authorities and chambers of commerce can raise taxes, own land and their own public and sometimes freight transport companies." • Lamb exports from Northern Ireland have slumped after last week's Government admission that lamb may carry PSE.
O'Neill Transport director Liam O'Neill says lamb cargoes stopped when the news became public, leaving just a few loads still going for export. "Lamb was moving steadily," he says. "But since the thing about BSE it's gone too."
English hauliers say it is too early to say if lamb sales will drop. And the news the Government is likely to extend the beef cull by 50,000 failed to cheer English hauliers who have lost up to 80% of beef business.