EDUCATIONAL ORGANIZATIONS IN TRANSPORT A Final Miscellany
8th April 1966
Page 68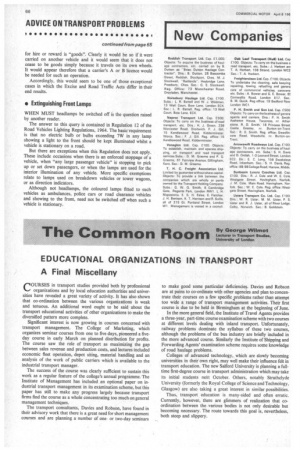 Page 68, 8th April 1966 —
EDUCATIONAL ORGANIZATIONS IN TRANSPORT A Final Miscellany
Close
COURSES in transport studies provided both by professional organizations and by local education authorities and universities have revealed a great variety of activity. It has also shown that co-ordination between the various organizations is weak and tenuous. An additional word ought to be said about the transport educational activities of other organizations to make the diversified pattern more complete.
Significant interest is now growing in courses concerned with transport management. The College of Marketing, which organizes seminar courses from one to five days, pioneered a fiveday course in early March on planned distribution for profits. The course saw the role of transport as maximizing the gap between sales revenue and production costs, and lectures included economic fleet operation, depot siting, material handling and an analysis of the work of public carriers which is available to the industrial transport manager.
The success of the course was clearly sufficient to sustain this work as a regular feature of the college's annual programme. The Institute of Management has included an optional paper on industrial transport management in its examination scheme, but this paper has still to make any progress largely because transport firms find the course as a whole concentrating too much on general management techniques.
The transport consultants, Davies and Robson, have found in their advisory work that there is a great need for short management courses and are planning a number of oneor two-day seminars to make good some particular deficiencies. Davies and Robson are at pains to co-ordinate with other agencies and plan to concentrate their courses on a few specific "problems rather than attempt too wide a range of transport management activities. Their first course is due to be held in Birmingham at the beginning of June.
In the more general field, the Institute of Travel Agents provides a three-year, part-time course examination scheme with two courses at different levels dealing with inland transport. Unfortunately, railway problems dominate the syllabus of these two courses, although the problems of the bus industry, are briefly included in the more advanced course. Similarly the Institute of Shipping and Forwarding Agents' examination scheme requires some knowledge of road haulage problems.
Colleges of advanced technology, which are slowly becoming universities in their own right, may well make their influence felt in transport education. The new Salford University is planning a fulltime first-degree course in transport administration which may take its initial students nett October. Others, notably Strathclyde University (formerly the Royal College of Science and Technology, Glasgow) are also taking a great interest in similar possibilities.
Thus, transport education is many-sided and often erratic. Currently, however, there are glimmers of realization that coordination between the various bodies is not only desirable but becoming necessary. The route towards this goal is, nevertheless, both steep and slippery.