New axle stands
8th April 1966
Page 48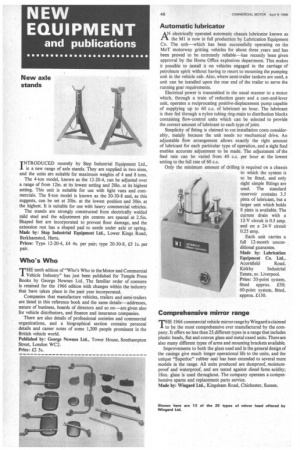 Page 48, 8th April 1966 —
New axle stands
Close
INTRODUCED recently by Step Industrial Equipment Ltd., is a new range of axle stands. They are supplied in two sizes, and the units me suitable for maximum weights of 4 and 8 tons. The 4-ton model, known as the 12-20-4, can be adjusted over a range of from 12in. at its lowest setting and 20in. at its highest setting. This unit is suitable for use with light vans and commercials. The 8-ton model is known as the 20-30-8 and, as this suggests, can be set at 20in. at the lowest position and 30in. at the highest. It is suitable for use with heavy commercial vehicles.
The stands are strongly constructed from electrically welded mild steel and the adjustment pin centres are spaced at 2.5in. Shaped feet are incorporated to prevent floor damage, and the extension rest has a shaped pad to nestle under axle or spring. Made by: Step Industrial Equipment Ltd., Lower Kings Road, Berkhamsted, Herts. Prices: Type 12-20-4, £4 4s. per pair; type 20-30-8, £5 Is. per Pain
Who's Who
THE tenth edition of "Who's Who in the Motor and Commercial Vehicle Industry" has just been published for Temple Press Books by George Newnes Ltd., The familiar order of contents is retained for the 1966 edition with changes within the industry that have taken place in the past year incorporated.
Companies that manufacture vehicles, trailers and semi-trailers are listed in this reference book and the same details—addresses, nature of business, boards of directors and so on—are given also for vehicle distributors, and finance and insurance companies. There are also details of professional societies and commercial organizations, and a biographical section contains personal details and career notes of some 1,200 people prominent in the British vehicle world.
Published by: George Newnes Ltd., Tower House, Southampton Street, London WC2.
Price: £2 5s.
Automatic lubricator
Al electrically operated automatic chassis lubricator known as the M1 is now in full production by Lubrication Equipment Co. The unit—which has been successfully operating on the
MoT motorway gritting vehicles for about three years and has been proved to be extremely reliable—has recently been given approval by the Home Office explosives department. This makes it possible to install it on vehicles engaged in the carriage of petroleum spirit without having to resort to mounting the pumping unit in the vehicle cab. Also, where semi-trailer tankers are used, a unit can be installed upon the rear end of the trailer to serve the running gear requirements.
Electrical power is transmitted in the usual manner to a motor which, through a train of reduction gears and a cam-and-lever
unit, operates a reciprocating positive-displacement pump capable of supplying up to 60 c.c. of lubricant an hour. The lubricant is then fed through a nylon tubing ring-main to distribution blocks containing flow-control units which can be selected to provide the correct amount of lubricant to each type of joint.
Simplicity of fitting is claimed to cut installation costs considerably, mainly because the unit needs no mechanical drive. An adjustable flow arrangement allows exactly the right amount of lubricant for each particular type of operation, and a sight feed enables accurate adjustment to be made. The adjustment of the feed rate can be varied from 40 c.c. per hour at the lowest setting to the full rate of 60 c.c.
Only the minimum amount of drilling is required on a chassis to which the system is to be fitted, and only eight simple fittings are used. The standard reservoir contains 3.5 pints of lubricant, but a larger unit which holds 8 pints is available. The current drain with a 12-V circuit is 0.5 amp. and on a 24-V circuit 0.25 amp. Each unit carries a full 12-month unconditional guarantee. Made by: Lubrication Equipment Co. Ltd., Acornfield Road, Kirkby Industrial Estate, nr. Liverpool. Price: 20-point system, fitted approx. £50; 60-point system, fitted, approx. £130.
Comprehensive mirror range
Tr1966 commercial vehicle mirror range by Wingard is claimed be the most comprehensive ever manufactured by the company. It offers no less than 25 different types in a range that includes plastic heads, flat and convex glass and metal cased units. There are also many different types of arms and mounting brackets available.
Improvements to both the glass used and in the general design of the casings give much longer operational life to the units, and the unique "Superloc" rubber seal has been extended to several more models in the range. All units produced are dustproof, moistureproof and waterproof, and are tested against diesel fume acidity; 18oz. glass is used throughout. The company operates a comprehensive spares and replacement parts service. Made by: Wingard Ltd., Kingsham Road, Chichester, Sussex.