Patented oil-change system is quick and clean
8th April 1966
Page 47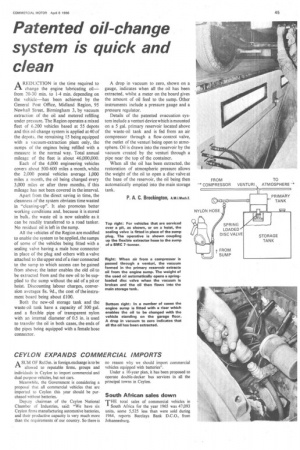 Page 47, 8th April 1966 —
Patented oil-change system is quick and clean
Close
AREDUCTION in the time required to change the engine lubricating oil— from 20-30 mm. to 1-4 min. depending on the vehicle—has been achieved by the Genera! Post Office, Midland Region, 95 Newhall Street, Birmingham 3, by vacuum extraction of the oil and metered refilling under pressure. The Region operates a mixed fleet of 6.200 vehicles based at 55 depots
and this change system is applied at 40 of the depots, the remaining 15 being equipped with a vacuum-extraction plant only, the sumps of the engines being refilled with a measure in the normal way. Total annual mileage of the fleet is about 46,000,000.
Each of the 4,000 engineering vehicles covers about 500-600 miles a month, whilst the 2.000 postal vehicles average 1,000 miles a month, the oil being changed every 3,000 miles or after three months, if this mileage has not been covered in the interval.
Apart from the direct saving in time, the cleanness of the system obviates time wasted in "cleaning-up". It also promotes better working conditions and, because it is stored in bulk, the waste oil is now saleable as it can be readily transferred to a road tanker. No residual oil is left in the sump.
All the vehicles of the Region are modified to enable the system to be applied, the sumps of some of the vehicles being fitted with a sealing valve having a male hose connector in place of the plug and others with a valve attached to the upper end of a riser connected to the sump to which access can be gained from above; the latter enables the old oil to be extracted from and the new oil to be supplied to the sump without the aid of a pit or hoist. Discounting labour charges, conversion averages Ss. 9d., the cost of the instrument board being about £100.
Both the new-oil storage tank and the waste-oil tank have a capacity of 300 gal. and a flexible pipe of transparent nylon with an internal diameter of 0.5 in. is used to transfer the oil in both cases, the ends of the pipes being equipped with a female hose connector. A drop in vacuum to zero, shown on a gauge. indicates when all the oil has been extracted, whilst a meter on the board gives the amount of oil feed to the sump. Other instruments include a pressure gauge and a pressure regulator.
Details of the patented evacuation system include a venturi device which is mounted on a 5 gal. primary reservoir located above the waste-oil tank and is fed from an air compressor through a flow-control valve, the outlet of the venturi being open to atmosphere. Oil is drawn into the reservoir by the vacuum created by the venturi through a pipe near the top of the container.
When all the oil has been extracted, the restoration of atmospheric pressure allows the weight of the oil to open a disc valve at the base of the reservoir, the oil being then automatically emptied into the main storage tank.
P. A. C. Brockington, A.M.I.Mech.E.