LEYLAND PANTHER AT OSLO
8th April 1966
Page 43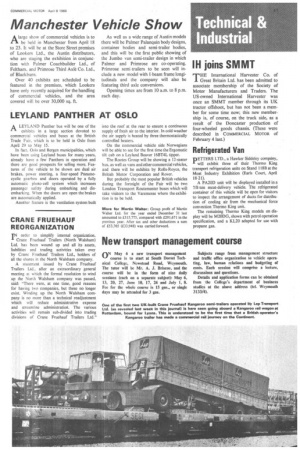 Page 43, 8th April 1966 —
LEYLAND PANTHER AT OSLO
Close
A LEYLAND Panther bus will be one of the
exhibits in a large section devoted to commercial vehicles and buses at the British Trade Fair, which is to be held in Oslo from April 29 to May 15.
In fact, Oslo and Bergen municipalities, which have been using Leyland buses for many years, already have a few Panthers in operation and there are good prospects for selling more. Features of the vehicle to be shown are dual air brakes, power steering, a four-speed Pneumocyclic gearbox and doors operated by a fully automatic photo-cell system which increases passenger safety during embarking and disembarking. When the doors are open the brakes are automatically applied.
Another feature is the ventilation system built into the roof at the rear to ensure a continuous supply of fresh air to the interior. In cold weather the air supply is heated by three thermostatically controlled heaters.
On the commercial vehicle side Norwegians will be able to see for the first time the Ergornatic Lilt cab on a Leyland Beaver 16BT4L tipper.
The Rootes Group will be showing a 12-seater bus, as well as vans and other commercial vehicles, and there will be exhibits by Rolls-Royce, the British Motor Corporation and Royer.
But probably the most popular British vehicles during the fortnight of the Fair will be two London Transport Routemaster buses which will take visitors to the Varemesse where the exhibition is to be held.
More for Martin Walter: Group profit of Martin Walter Ltd. for the year ended December 31 last amounted to £315,775, compared with £291,671 in the previous year. After tax and other deductions a sum of £53,765 (£33,948) was carried forward.