Conditional Grant for P. Jeory
8th April 1966
Page 42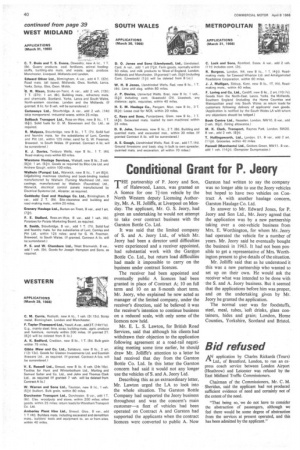 Page 42, 8th April 1966 —
Conditional Grant for P. Jeory
Close
THE partnership of P. Jeory and Son, of Halewood, Lanes, was granted an A licence for one 7f-ton vehicle by the North Western deputy Licensing Authority, Mr. A. H. Jolliffe, at Liverpool on Monday. The applicant, Mr. G. S. Jeory, had given an undertaking he would not attempt to take over contract business with the Garston Bottle Co. Ltd.
It was said that the limited company of S. and A. Jeory Ltd., of which Mr. Jeory had been a director until difficulties were experienced and a receiver appointed, had substantial work with the Garston Bottle Co. Ltd., but return load difficulties had made it impossible to carry on the business under contract licences.
The receiver had been appointed and eventually public A licences had been granted in place of Contract A; 10 on full term and 10 on an 8-month short term. Mr. Jeory, who explained he now acted as manager of the limited company, under the receiver's direction, said he believed it was the receiver's intention to continue business on a reduced scale, with only some of the licences now held.
Mr. E. L. S. Lawton, for British Road Services, said that although his clients had withdrawn their objection to the application following agreement at a road-rail negotiating meeting some time earlier, he should draw Mr. Jolliffe's attention to a letter he had received that day from the Garston Bottle Co. Ltd. In this letter the Garston concern had said it would not any longer use the vehicles of S. and A. decry Ltd.
Describing this as an extraordinary letter, Mr. Lawton urged the LA to look into the whole situation. The Garston Bottle Company had supported the Jeory business throughout and was the concern's main customer-a fleet of vehicles had been operated on Contract A and Garston had supported the applicants when the contract licences were converted to public A. Now Garston had written to say the company was no longer able to use the Jeory vehicles but hoped to have two vehicles on Contract A with another haulage concern, Garston Haulage Co. Ltd.
In answer to Mr. Edward Jones, for P. Jeory and Son Ltd., Mr. Jeory agreed that the application was by a new partnership taking over a one-vehicle business from Mrs. E. Worthington, for whom Mr. Jeory had operated the vehicle for a number of years. Mr. Jeory said he eventually bought the businesi in 1963. It had not been possible to get a representative of Mrs. Worthington present to give details of the situation.
Mr. Jolliffe said that as he understood it this was a new partnership Who wanted to set up on their own. He would ask the receiver what was intended to be done with the S. and A. Jeory business. But it seemed that the applications before him was proper, and on the undertaking given by Mr. Jeory he granted the application.
The normal user was for foodstuffs, steel, meal, tubes, 'soft drinks, glass containers, hides and grain; London, Home Counties, Yorkshire, Scotland and Bristol.