SUBLIME OPTIMIST!
8th April 1966
Page 38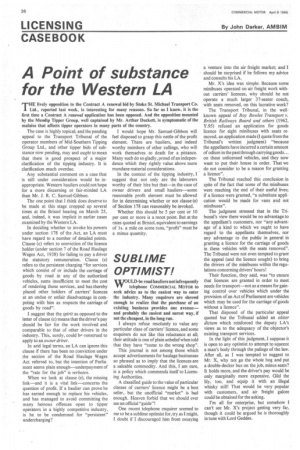 Page 38, 8th April 1966 —
SUBLIME OPTIMIST!
Close
WOULD-be road hauliers not infrequently telephone COMMERCIAL MOTOR to seek advice as to the easiest way to enter the industry. Many enquirers are shrewd enough to realize that the purchase of an existing business provides one avenue— and probably the easiest and surest way, if not the cheapest, in the long run.
I always refuse resolutely to value any particular class of carriers' licence, and some enquirers do not like this reluctance at all; their attitude is one of plain unbeliefwhen told that they have "come to the wrong shop".
This journal is not among those which accept advertisements for haulage businesses so phrased as to imply that the licences are a saleable commodity. And this, I am sure, is a policy which commends itself to Licensing Authorities.
A classified guide to the value of particular classes of carriers' licence might be a best seller,. but the unofficial "market" is bad enough. Heaven forbid that we should ever see an official "guide"!
One recent telephone enquirer seemed to me to be a sublime optimist for, try as I might, I doubt if I discouraged him from essaying a venture into the air freight market; and I should be surprised if he follows my advice and consults his LA.
Mr. X's idea was simple: Because some minibuses operated on air freight work with out carriers' licences, why should he not operate a much larger 37-seater coach, with seats removed, on this lucrative work?
The Transport Tribunal, in the wellknown appeal of Roy Bowles Transport v.
British Railways Board and others (1962, Y.95) refused an application for goods
licence for eight minibuses with seats re moved, an application made (I quote from the Tribunal's written judgment) "because the appellants have incurred a certain amount of odium in the past through carrying goods... on these unlicensed vehicles, and they now want to put their house in order. That we do not consider to be a reason for granting a licence".
The Tribunal reached this conclusion in spite of the fact that some of the minibuses were reaching the end of their useful lives; if a licence were granted, "a substitute application would be made for vans and not minibuses".
The judgment stressed that in the Tribunal's view there would be no advantage to the appellant's customers, nor "any advant age of a kind to which we ought to have regard to the appellants themselves, nor any advantage to the public in general in granting a licence for the carriage of goods in these vehicles with the seats removed".
The Tribunal were not even tempted to grant the appeal (and the licence sought) to bring the drivers of the minibuses within the regulations concerning drivers' hours Their function, they said, was "to ensure that licences are granted in order to meet needs for transport—not as a means for gaining control over vehicles which under the provision of an Act of Parliament are vehicles which may be used for the carriage of goods without a licence".
That disposed of the particular appeal quoted but the Tribunal added an °biter dictum which reinforced the deputy LA's views as to the adequacy of the objector's existing transport services.
In the light of this judgment, I suppose it is open to any optimist to attempt to squeeze a man's body through the palings of the law.
After all, as I was tempted to suggest to Mr. X, why not go the whole hog and put a double-decker bus on the job, minus seats?
It holds more, and the driver's pay would be only marginally more expensive. Gild the lily, too, and equip it with an illegal whisky still! That would be very popular with customers, and air freight galore could be obtained for the asking.
I'm all for enterprise, but somehow I can't see Mr. X's project getting very far, though it could be argued he is thoroughly in tune with Lord Geddes.