A Point of substance for the Western LA
8th April 1966
Page 38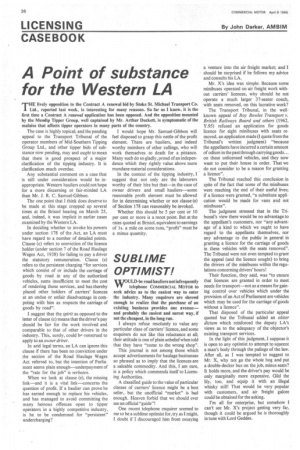 Page 38, 8th April 1966 —
A Point of substance for the Western LA
Close
THE lively opposition to the Contract A renewal bid by Stoke St. Michael Transport Co. Ltd., reported last week, is interesting for many reasons. So far as I know, it is the first time a Contract A renewal application has been opposed. And the opposition mounted by the Mendip Tipper Group, well captained by Mr. Arthur Duckett, is symptomatic of the malaise that affects tipper operators in many parts of the country.
The case is highly topical; and the pending appeal to the Transport Tribunal of the operator members of Mid-Southern Tipping Group Ltd., and other tipper bids of substance now pending, may and ought to mean that there is good prospect of a major clarification of the tipping industry. It is clarification much overdue.
Any substantial comment on a case that is still under consideration would be inappropriate. Western hauliers could not hope for a more discerning or fair-minded LA than Mr. J. R. C. Samuel-Gibbon.
The one point that I think does deserve to be made at this stage cropped up several times at the Bristol hearing on March 25, and, indeed, it was implicit in earlier cases examined by the Western LA.
In deciding whether to invoke his powers under section 178 of the Act, an LA must have regard to a number of detailed points. Clause (c) refers to conviction of the licence holder (under section 7 of the Road Haulage Wages Act, 1938) for failing to pay a driver the statutory remuneration. Clause (e) refers to the persistent charging "for services which consist of or include the carriage of goods by road in any of the authorized vehicles, sums insufficient to meet the cost of rendering those services, and has thereby placed other holders of carriers' licences at an undue or unfair disadvantage in competing with him as respects the carriage of goods by road".
I suggest that the spirit as opposed to the letter of clause (c) means that the driver's pay should be fair for the work involved and comparable to that of other drivers in the industry. This, surely, could be construed to apply to an owner driver.
In arid legal terms, an LA can ignore this clause if there has been no conviction under the section of the Road Haulage Wages Act referred to, but the intention of Parliament seems plain enough—underpayment of the "rate for the job" is verboten.
When we look at clause (e), the missing link—and it is a vital link—concerns the question of profit. If a haulier can prove he has earned enough to replace his vehicles, and has managed to avoid committing the many heinous offences open to tipper operators in a highly competitive industry, is he to be condemned for "persistent" undercharging? I would hope Mr. Samuel-Gibbon will feel disposed to grasp this nettle of the profit element. There are hauliers, and indeed worthy members of other callings, who will work themselves to death for a pittance. Many such do so gladly, proud of an independence which they rightly value above more mundane material considerations.
In the context of the tipping industry, I suggest that not only are the labourers worthy of their hire but that—in the case of owner drivers and small hauliers—some reasonable profit element must be allowed for in determining whether or not clause (e) of Section 178 can reasonably be invoked.
Whether this should be 5 per cent or 10 per cent or more is a moot point. But at the rates quoted at Bristol, equivalent to earnings of Is. a mile on some runs, "profit" must be a minus quantity.