Objectors galore at tipper applications
8th April 1966
Page 37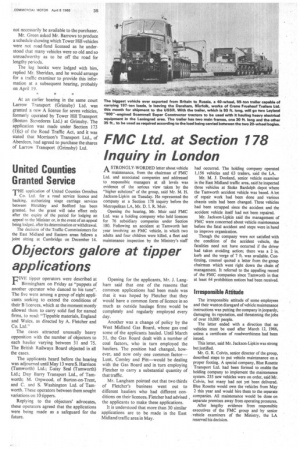 Page 37, 8th April 1966 —
Objectors galore at tipper applications
Close
FIVE tipper operators were described at Birmingham on Friday as "puppets of another operator who danced to his tune". The five were among a group of eight applicants seeking to extend the conditions of their B licences, which at the moment mostly allowed them to carry solid fuel for named firms, to read: "Tippable materials, England and Wales. as directed by A. Fletcher and Co. Ltd."
The cases attracted unusually heavy opposition with the number of objectors to each haulier varying between 31 and 75. The British Railways Board objected in all the cases.
The applicants heard before the hearing was adjourned until May 13 were S. Harrison (Tamworth) Ltd.; Daisy Seal (Tamworth) Ltd.; Day Barry Transport Ltd., of Tamworth; M. Orpwood, of Burton-on-Trent, and C. and S. Washington Ltd. of Tamworth. These operators between them sought variations on 10 tippers.
Replying to the objectors' advocates, these operators agreed that the applications were being made as a safeguard for the future.
Opening for the applicants, Mr. J. Langham said that one of the reasons that common applications had been made was that it was hoped by Fletcher that they would have a common form of licence in so much as outside haulage firms would be completely and regularly employed every day.
Another was a change of policy by the West Midland Gas Board, whose gas coal some of the applicants hauled. Until March 31, the Gas Board dealt with a number of coal factors, who in turn employed the hauliers. The position had changed, however, and now only one common factor— Lunt, Comley and Pitt—would be dealing with the Gas Board and in turn employing Fletcher to carry a substantial quantity of that traffic.
Mr. Langham pointed out that two thirds of Fletcher's business went out to different hauliers who had different conditions on their licences. Fletcher had advised , the applicants to make these applications.
It is understood that more than 30 similar applications are to be made in the East Midland traffic area in May.