FMC Ltd. at Section 178 Inquiry in London
8th April 1966
Page 37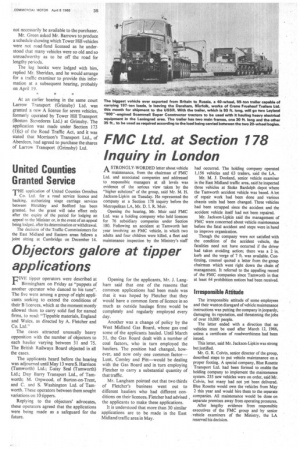 Page 37, 8th April 1966 —
FMC Ltd. at Section 178 Inquiry in London
Close
A STRONGLY-WORDED letter about vehicle maintenance, from the chairman of FMC Ltd. and associated companies and addressed to responsible managers at all levels was evidence of the serious view taken by the "higher echelons" of the group, said Mr. M. H. Jackson-Lipkin on Tuesday. He represented the company at a Section 178 inquiry before the Metropolitan LA, Mr. D. I. R. Muir.
Opening the hearing, Mr. Muir said FMC Ltd. was a holding company who held licences for 76 subsidiary companies under Section 180. Following an accident at Tamworth last year involving an FMC vehicle, in which two adults and four children were killed, a fleet and maintenance inspection by the Ministry's staff
had occurred. The holding company operated 1,156 vehicles and 63 trailers, said the LA.
Mr. M. J. Dooland, senior vehicle examiner in the East Midland traffic area, said he inspected three vehicles at Stoke Bardolph depot where the Tamworth accident vehicle was based. A lot of repair work had been done and various chassis units had been changed. Three vehicles had been scrapped since the accident and the accident vehicle itself had not been repaired.
Mr. Jackson-Lipkin said the management of FMC were concerned about vehicle maintenance before the fatal accident and steps were in hand to improve organization.
Though the company were not satisfied with the condition of the accident vehicle, the fatalities need not have occurred if the driver had taken avoiding action; there was a 2 in. kerb and the verge of 7 ft. was available. Continuing, counsel quoted a letter from the group chairman which went right down the chain of management. It referred to the appalling record of the FMC companies since Tamworth in that at least 64 prohibition notices had been received.