'The fruits of misconduct'
8th April 1966
Page 36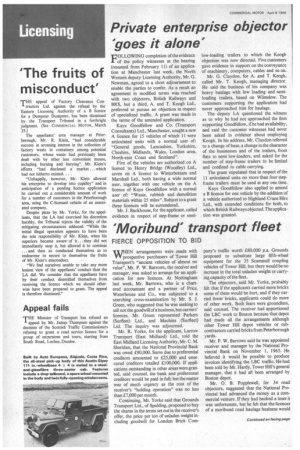 Page 36, 8th April 1966 —
'The fruits of misconduct'
Close
THE appeal of Factory Clearance Con tractors Ltd. against the refusal by the Eastern Licensing Authority of a B licence for a Dempster Dumpster, has been dismissed by the Transport Tribunal in a forthright judgment. (See COMMERCIAL MOTOR, March 25.)
The appellants' area manager at Peterborough, Mr. R. Klein, "had considerable success in arousing interest in the collection of factory waste in containers among potential customers, whose waste had previously been dealt with by other less convenient means, including burning and burying". Mr. Klein's efforts "had disclosed a market ... which had not hitherto existed. . . .
"Unhappily, however, Mr. Klein allowed his enterprise to develop into cupidity" and in anticipation of a pending licence application he carried out a considerable amount of work for a number of customers in the Peterborough area, using the C-licensed vehicle of an associated company.
Despite pleas by Mr. Yorke, for the appellants, that the LA had exercised his discretion harshly, the Tribunal rejects the validity of the mitigating circumstances adduced. "While the initial illegal operation appears to have been the sole responsibility of Mr. Klein, when his superiors became awareof it ...they did not immediately stop it, but allowed it to continue ... and then so conducted themselves as to endeavour to secure to themselves the fruits of Mr. Klein's misconduct.
"We find ourselves unable to take any more lenient view of the appellants' conduct than the LA did. We consider that the appellants have by their conduct disentitled themselves from receiving the licence which we should otherwise have been prepared to grant. The appeal is therefore dismissed."